This award is not open to voting
Brenda Moon has called Airdrie home for more than two decades, and in that time, this remarkable woman has donated her skills to no less than a dozen local organizations.
"When we moved here almost 23 years ago, we hardly knew a soul," she says.
"This community was very welcoming, and I quickly realized how vital it was to keep that spirit alive and growing."
She adds that the way to do that was to use the skills she had learned at her job at RBC to give back where she could.
While working full time, she joined the Airdrie Pro Rodeo committee in 1997 and served as president from 2001 to 2004. While involved with the rodeo, she founded Canada's first "Tough Enough to Wear Pink," a nationally recognized campaign and framework for rodeos and western events that promotes breast cancer awareness and raises funds for the cause.
"Brenda's best qualities are that she is a knowledgeable, strong leader and advocate," says Haley Brietzke, who nominated Moon for the Legacy Award.
"She is caring and positive but is also relentlessly determined until her goals are completed."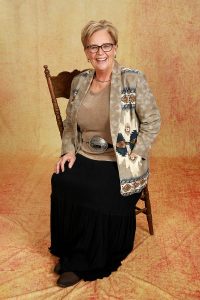 A true fighter
Moon has battled cancer twice and won the fight. She was first diagnosed with breast cancer in 2001 and then again (in the other breast) in 2015.
True to form, she turned her personal tragedy into a positive by taking on the role of survivor spokesperson for the Airdrie Relay for Life and CIBC Run for the Cure in 2007 and 2008.
"Cancer is an intensely personal journey," she says.
"For many, sharing verbally is not something they can do. I understand that, but it was something I could do, and I chose to. I hope I was giving others a voice."
She says she wanted to share that there is hope – even with a cancer diagnosis. She wanted to bring awareness to people that being told you have cancer is not a death sentence.
Moon says her mantra of 'knowledge is power' gave her the strength to carry on and fight through the disease.
"Brenda's legacy is showing others, especially women, that anything is possible if you are determined, willing to work hard and treat people with kindness," says Sue Methuen, Moon's longtime friend.
Putting the culture in agriculture
Since 2004, Moon has been a member of the Airdrie Agriculture Society and was president from 2009 to 2012. She spent countless hours with the Province, Rocky View County and City of Airdrie to ensure the ag society would receive a land re-designation in 2010.
"Often, when we speak of 'culture,' we tend to forget 'agriculture,'" she says.
"I have learned so much from our ag community. I'm a city kid, born and raised in Edmonton, but just one generation off the farm. It is important to me to be a part of and to promote the western spirit of innovation, hard work and beliefs."
Since 2015, she has also donated her time to Airdrie Food Bank. Through the ag society and the Airdrie Community Kitchen, she has mentored classes in herbs and preserves.
"I have planted and maintained the culinary herb garden on the south side of the Rotary Community Kitchen at the food bank for the past three years," says Moon.
"I also helped develop and present a 'Preserving Your Skills' hands-on workshop, designed to share how to preserve foods by canning them, with food safety a top priority."
If all of this wasn't impressive enough, Moon has also given her time to the Farm Women's Conference and volunteered at Airdrie Public Library (APL).
"I assisted with a number of strategic planning sessions and developed close relationships with some of the wonderful people at our library," she says.
"I was also asked to be part of a short video showcasing the many benefits of APL – and technology – in a fun way. And we did have a lot of fun with that!"