Over the past 12 years, the Astoria Annual Charity Golf Tournament has raised more than $300,000 for the Airdrie Food Bank.
This year, Owner of Astoria Asset Management Lorelei Talbot had to make the difficult decision to cancel the tournament due to the COVID-19 pandemic.
"It is very disheartening to know that we won't be able to help the food bank in the manner that we have in the past," she says.
"COVID-19 brought in so many factors in making our decision to cancel, from job and revenue losses, to social distancing and safety to name a few."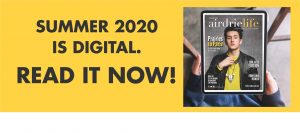 She adds that Astoria is still choosing to donate $5,000 to the food bank because her company had minimal changes to their business, and they are able to contribute some money to the cause.
She encouraged any other businesses that would normally take part in the golf tournament to donate what they can as well.
"We may be missing out on a fun day of golf, but it doesn't stop the food bank needing funding," she adds.
"If you are able to donate, I encourage you to and if you can't, please volunteer. I believe that the Airdrie Food Bank is the best way to directly help people in the community. Lori McRitchie, the executive director, has given so much and I attribute a lot of the success to her. It has been an honour to bring a group of people together to assist her in making a difference."
McRitchie says the golf tournament is the largest fundraising initiative held for the food bank annually. She adds that she fully understands that this year's event had to be cancelled due to the ongoing pandemic.
"Their support of us over the years has been significant and has gone a long way in allowing us to continue to support our community through our programs. We are incredibly grateful for their heart for us and for our community," says McRitchie.
"During the pandemic we realize our business community has been impacted greatly.  We ask that as a community, we continue to support our businesses as they truly need us to support them during these difficult times."
She says the Airdrie Food Bank has been blessed in many ways throughout the pandemic by the support of the community.
"As individuals and families face the ongoing challenges that are a part of this pandemic and Alberta's ongoing economic challenges, we continue to rely on the support of those that are able to care for their neighbours," she adds.
Cash donations can be made to the food bank's website and food donations can be dropped off to any grocery store.
stacie@frogmediainc.ca