The witching hour of Halloween has passed and Airdrie's neighbourhoods are now slowly packing up their eerie displays that captured the spirit of the season.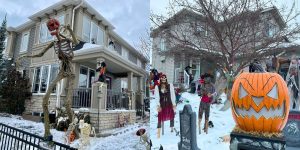 Take, for instance, the Fixes' not-so-haunted house located in the South West community of Canals. Here, a child-friendly haunted house included a graveyard, haunted mansion and laboratory. The entry fee was simply a donation to the Airdrie Food Bank.
"We are artists, so we really just love entertaining and putting a smile on people's faces," says Clifford Fix who created a majority of the props with his wife, Tanya.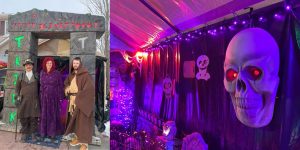 "This is our third year putting on a haunted house here in Airdrie, but we have always gone all out. We had more than 1,000 people come through our haunted house last year. So we see it as an opportunity to help build community while supporting our community."
Other homes across Airdrie featured 12 ft giant skeletons with realistic eyes that appeared to watch you as you moved, a variety of inflatable halloween decorations and life-size animatronics that ranged from friendly to frightful.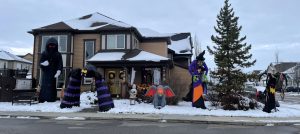 In the north west community of Stonegate, one particular home boasted dozens of pumpkins carved and lit up for trick-or-treaters to enjoy.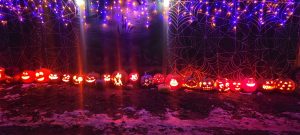 Homeowner Kim calls it the 'Stonegate Jack O'Lantern Jamboree.'
"I would say 24 pumpkins take me about 30-40 hours to complete," says Kim.
While she carves a majority of the pumpkins displayed, others from the community happily donate their pumpkins to add to the impressive collection.
"It seems like a ton of effort, but I just find it so fun," says Kim.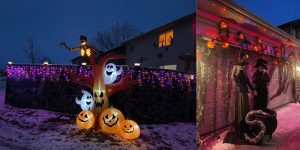 "I love seeing all the kids in their costumes. Halloween is just a place where you can get creative. People can be whatever your imagination takes you, so I want my home to be a place where that creativity can just go wild. That's what Halloween is, a holiday that lets your freak side show a little."