The Airdrie Chamber of Commerce (ACC) recently awarded five local businesses $1,000 grants as part of the Wear it Proud campaign.
Wear it Proud was an initiative to raise funds for local businesses affected by the COVID-19 pandemic by selling Heart Airdrie toques during the month of December at more than 10 local retailers.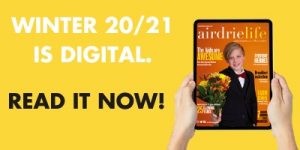 "We simply wanted to support our business community by raising funds for businesses that were struggling during the pandemic and incorporate the support of the community who purchased the Heart Airdrie toques," says Marilyne Aalhus, executive director of ACC.
"For many small businesses that are open, the community truly needs to rally behind them for them to survive. Please shop local at small retailers, restaurants, personal services etc., they need us more than ever before."
The recipients of the grant were:
Embrace Bridal & Formal Fashions
Jam's Restaurant
Modern Elevation Float and Wellness Center
Reuan Namthip Massage & Spa
Rose Gold Body Piercing
Ryan Cameron, owner of Modern Elevation Float and Wellness Center, says he applied for the grant because his company opened its doors in January 2020 and, as a new business, doesn't qualify for a number of the government grants.
"The chance at this grant was an opportunity for Modern Elevation to get a shot in the arm to keep us going through what was then our second shut down in our first year of business," he says.
"I would like to add that the Chamber has been doing a great job in supporting, listening to, and advocating for Airdrie businesses. They are true champions for our community, and I am so appreciative of the efforts they have put in over 2020 to help in any way they could."
Courtney Rose, owner of Rose Gold Body Piercing, says she has struggled to reinvent her shop since the pandemic hit in March.
"We will be using this grant to help with our rent this month and operating costs of having our space open, but not operating," says the tattoo artist who has been working in Airdrie since 2006 and opened her own shop in 2017.
Brad Stefaniuk, owner of Jam's Restaurant, says his business is struggling due to the current COVID-19 restrictions and the grant helped him to pay some bills.
"I feel very lucky to be one of the grant recipients because every week, it's a gamble if we shut the doors or not," he adds.
Namthip Angus, owner of Reuan Namthip Massage & Spa, says multiple shut down orders from the government has made it impossible to generate any income.
LuyMo Nguyen, owner of Embrace Fashions, says although it has been difficult for the wedding industry since the pandemic hit and every dollar counts, she is optimistic that there is a light at the end of the tunnel.
"This grant gave me the opportunity to talk to the others, and I believe we just have to hang on a bit more and we will make it," she says.
"I hope Airdrie will support store-front local businesses so we can make enough to pay our bills. During COVID, it's natural to see many businesses to change to home-based or online, but for businesses like ours, we can't change the way we operate."
The Chamber received just shy of 30 grant applications for the Wear it Proud campaign, according to Aalhus.
She adds that the members of the ACC wish they could have awarded the grant to all those who applied, and the Chamber will continue to explore new grant and business support programs in 2021.
For more information on the ACC, click here.
stacie@frogmediainc.ca