Shhhop until you drop from the comfort of your couch!
The Rotary Club of Airdrie is giving residents a chance to give back while they kick back.
With just a few clicks, you can help those less fortunate in the community during the Shhhop for a Cause Virtual Silent Auction.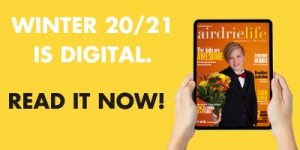 "We value our local community partners and the work they do to support Airdrie residents. We want to be able to help them now, when they need it the most," says Rotary President Kerry Bostick.
The Rotary Club of Airdrie has supported a number of community groups in the past 38 years.
These groups include Community Links, Airdrie Food Bank, Airdrie & District Victims Assistance Society and others.
Bostick adds these groups' demands on services have escalated exponentially in the last year.
"When we talked about the possibility of hosting an auction, we weren't sure what the response would be from our local business community, because we know they are also struggling," says Bostick.
"However, in true Airdrie fashion, the business community has been extremely generous and have really stepped up. We continue to be so grateful for the support we receive within the community that enables us to give back in Airdrie."
The auction will include two separate rounds with one running from Feb. 19 to March 1 and round two running from March 2 to 15.
Bostick says there will be more than 35 items to bid on during each round and with the variety of items available, she is sure they have something that will appeal to everyone.
Items include everything from spa packages to appliances to golf course certificates and more.
For more information or to make your bid, click here.
stacie@frogmediainc.ca