Local residents are outraged at prejudicial and hurtful comments that were written on the Pride Pathway and pedestrian bridges in Nose Creek Park sometime between the night of June 19 and the morning of June 20.
However, many local residents came together to clean and repaint the vandalized area, saying they are going to erase the destruction to show their solidarity and the fact that love overpowers hate.
Kiersten Mohr, president of the Airdrie Pride Society (APS), said the messages of hatred initially hit her hard.
"For me, as I stood in the grass at Nose Creek Park, staring at each piercing word, I felt immediately overcome with hurt and tears filled my eyes," she says.
"It is hard, for all of us, to see this hateful action in the city we call home."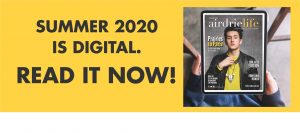 Mohr adds that the RCMP and the City's Parks Department were quick to respond to the vandalism.
She says the most distressing aspect of the senseless act is the fact that people in the city's marginalized communities may see these hurtful words and be afraid to be their true selves.
"As an organization, we were instantly worried for everyone in our community, who would eventually see these pictures swirling on social media and feel hurt," she says.
"We are concerned about anyone processing and digesting this hate alone. We are worried about anyone out there who is not out yet, and how this single act could encourage fear and uncertainty in the safety of being authentic and true in our city."
She adds that before she came out, seeing something like this in the news would have terrified her and reinforced every negative stereotype she had about small-town Alberta.
"So, our message to anyone nervous about coming out or being authentic in Airdrie is to trust that this hateful action does not represent our city," she says.
"A year ago, we stood in this same park surrounded by thousands of people who showed love, acceptance and passion for a more inclusive Airdrie."
She adds that the Airdrie Pride Society guarantees that they will repaint the pathway as many times as they have to, and that each time the rainbow will shine brighter.
"We will not go away, we will not be discouraged, we will not be silenced, and we will not let a single hateful act take away from all of the love and acceptance in our city," she says.
"After the biggest storms, that's when rainbows shine the brightest."
She said this was evident from the number of people who came out to clean and re-paint the pathway on June 22.
"Sometimes it is a good to focus on how the community responses to an act like this instead of the act itself," she says.
"Today, seeing the community come together, reinforced that Airdrie is truly full of love and inclusion."
Mayor Peter Brown was one of the residents who helped re-paint the pathway and he says he is also taking a stand against the vandalism/graffiti, on the rainbow sidewalk and pedestrian bridges.
"There is no place in Airdrie for hatred of any kind and it saddens all of us to see the graffiti that has recently popped up in our community," he says.
"However, I don't want to lose sight that the vast majority of people in Airdrie are kind, welcoming, diverse and inclusive. Focusing on only the few gives those people exactly what they want – it gives them a voice. Let's make our positive voices celebrating everyone louder and drown out the few."
To read about the unique way Airdrie Pride is being celebrated during the pandemic this year, flip to page 35 in our digital Summer 2020 edition by clicking here.
UPDATE
The Airdrie Pride pathway was vandalized again late on June 26 or early on June 27 when someone tarred and feathered it. APS put out a call on its social media channels for donations to help repaint the path and the organization received a flood of support.
This message was posted on the APS Facebook page on June 28:
"We would like to send a massive thank you to our community, province, and country for the outpouring of love we received yesterday. We are still processing the whole day as well as making our way through the emails and donations from individuals and businesses, but we want you all to know we are grateful beyond measure."
stacie@frogmediainc.ca
The photos below by Katie Dudek, airdrielife intern, show about a dozen Airdrie residents coming together to repaint the pathway for a second time on July 3.