A project that started first as a hobby and then as a side gig for Airdrie resident Kelsey Gyarmati has grown into a fledging fibre arts business.
"I have always loved to create new and interesting things that are different from what people usually think of when they think of fibre arts," says Gyarmati, owner of KLG Knits.
"I believe in cozy clothing that looks great and eco-friendly knit options for around the home."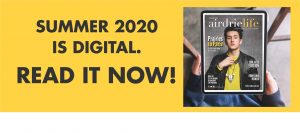 She first started knitting when she was 18 years old and made gifts for family members and friends.
Her drive to make different items while learning new skills resulted in her ending up with a surplus of knits that she decided to try and sell. She started out with a small craft fair here or there and worked her way up to being involved in a number of the bigger markets in Alberta about four years ago.
Although KLG Knits is run by Gyarmati alone, she often brings family, including her husband and brother, along to markets to sell her wares.
Even the name of the company is deeply rooted in family.
"KLG is my initials, as well as my son's initials. Sometimes my grandma and mom help out so I often joke it could also stand for Kelsey, Linda (my mom), and grandma," she says.
She adds she sells mostly toques but is trying to branch out into some summer wear (including tank tops and crop tops). She also makes items for the home, including small decorations and dryer balls.
She has expanded to create "fun accessories for pets," including small animal toys.
"When people think knits, they typically think of a couple items – I like to push those ideas," says Gyarmati.
"I use a lot of yarns that are safe for people with animal allergies. All of my knits are something that I stand behind, the styles are different from what is currently out there."
She adds that she is "very price conscientious" personally, so she tries to keep all of her prices reasonable.
Gyarmati likes to keep things fresh and rarely makes the same item twice.
"If you order something from my site, you won't see someone else walking around wearing the same thing," she says.
She adds that the COVID-19 pandemic gave her time to focus on her business and start building KLG Knit's presence in Airdrie.
"I notice a lot of people are interested in spending their money locally, and I am just so excited to be a part of that! I have worked through the whole pandemic, but everything in my spare time was cancelled so I was able to focus on building my website and creating some new social media content," she says.
For more information or to order KLG Knit's products from the online store, click here.
"My products are so full of my intentions and my heart and soul," says Gyarmati.
"I spend so many of my hours on these products to create something I am entirely proud of and I really do focus on unique pieces."
stacie@frogmediainc.ca
Check out some of KLG Knits designs in the photo gallery below. (Credit: Jen Freedaman)