There is no doubt that things have changed since the COVID-19 pandemic.
Routines have been disrupted and families are doing things in a way they never have before.
This can lead to struggles for parents and children as we try to acclimatize to the new rules and routines, just in time for them to change again.
With more and more people going back to work, childcare coming back into the picture, and school expected to start up again in the fall, things have recently been (or will soon be) turned upside down again for our kids and this can lead to separation anxiety.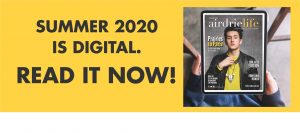 "Separation anxiety will be a prevalent matter as schools and daycares re-open," says Airdrie Community Links Parent Mentor Katie Marsh.
"This time together has increased attachment and security. The change of being without that now can be stressful for a child. Not having a strong concept of time (when mom will return) and lack of trust with new caregivers (unbuilt relationships) take time to process."
She adds it is important for parents to understand that separation anxiety is not a one-time thing.
"Over a significant period of time, children would show symptoms such as nightmares, trouble sleeping, regression in new independent skills such as toilet learning, tantrums when a parent leaves the room, lack of focus during activities, or reduced appetite," Marsh says.
According to kidshealth.org, separation anxiety peaks in infants 10 months to one year of age, and for some, it can appear around 18 months to two-and-a-half years of age.
However, the pandemic is an unusual situation and because parents have been talking to their kids about the dangers of the virus, children of all ages may present symptoms of anxiety surrounding parents going back to work, returning to childcare situations and back to school.
Talk Time
So how can we approach conversations with our children that are less likely to spark or worsen separation anxiety?
"Try to refrain from opinionated dialogue or information that is not age appropriate such as political perspectives and financial stresses brought on by COVID," says Marsh.
"Some families are no longer as concerned about the risks as before and some families are still very scared. It's our collective responsibility help them develop acceptance of the current realities of the situation. Our children's shoulders aren't strong enough to carry the weight of our worries. Talk positively and celebrate the ways in which the community has come together."
For more information on exactly what to say, Community Links has a YouTube video that addresses talking to children about the pandemic.
Helping Them Cope
Marsh said the key to helping kids deal with separation anxiety is to try and prepare them for what is coming as much as possible.
If they are upset that you are going back to work and wondering if you are going to be safe while you are there; tell them a few days before, explain where you are going, tell them how long you will be gone and let them ask you any questions they might have (watch the Community Links YouTube video for tips on how to address children's COVID questions).
"Make preparations ahead of changes," adds Marsh.
"Start waking up earlier in the weeks leading up to a change and visit the new daycare or school beforehand if possible. Set up your mornings for success by preparing as much as possible the night before such as picking out outfits and making lunches. This allows for time delays without as much stress."
She says for younger children, you can also provide a comfort piece (a teddy bear, mom's bracelet) to keep with them during the day.
Another tip is to avoid any other unnecessary changes at this time. This is not the time to try potty training or giving up the pacifier.
"Part of our job as parents is to raise children who are confident," says Marsh.
"The hardest part of that job can be accepting success. You're allowed to be emotional in this transition. In order to raise resilient humans, we have to work through tough things like separation anxiety for them to manage stress and learn to self-regulate. Ease the symptoms the best you can and be kind to yourself in the process."
For more information on the resources Airdrie Community Links has available for parents, click here.
5 Tips for Dealing with Separation Anxiety
Provide a comfort item for the child
Be consistent
Create a relationship with the new caregiver
Share your feelings with co-workers and friends (they'll understand)
Keep the end goal in mind – this won't last forever
stacie@frogmediainc.ca