The volunteers at Iron Horse Park recently shouted "all aboard" for the first time since March 2020.
The miniature trains, track and landscape at Iron Horse Park represent the Canadian Pacific Railway (CPR) from the prairies to the coast.
The 1.6-kilometre interpretive journey aboard one of the one-eighth scale diesel or steam locomotives at the park gives riders the feeling of what the railway was like in Western Canada during the pioneer days.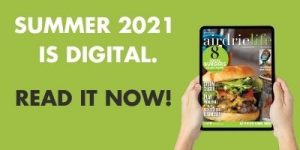 The journey will takes visitors over hills, across trestles and through tunnels across the varied landscape.
The park fully opened on July 18 for the first time since the COVID-19 pandemic and so far, more than 2,500 visitors have ridden the trains.
"It's great to be able to share our hobby and facilities with our visitors once again and our visitors appreciates this as well," says Ray Verdone, president of the Alberta Model Engineering Society, which runs the park.
"Just come and see it for yourself and I'm sure you will enjoy the time you spend there."
Verdone says people can expect to be surprised when they visit the park.
"The visitors are often amazed by the size and all the features of our park," he adds.
"A train journey is about 1.6 kilometres long and takes about 12 minutes to go around. It is an inexpensive, family-oriented destination and simply a great place to spend an hour or two doing something very different."
He says there are currently no COVID restrictions in place at the park but there is hand sanitizer available on site and the passenger cars have the longer "COVID bars" which increases the distance between cars for social distancing.
"Please remember that everything except the store where people buy tickets (and washrooms) are outdoors," he adds.
Visitors can also expect to see some new elements coming soon including a new loop of track "tied in" to the old loop and three new steam locomotives.
"Now that we are running again, we can start thinking about more projects and improvements," Verdone says.
"Iron Horse Park is 100 per cent volunteer operated, non-profit organization. Every penny spent at the park goes right back into maintaining and extending the facility. That's how it's been since we moved into this site generously provided by the City of Airdrie in 1997.  Everything you see at the park has been put there by volunteers, including all the trees which were planted by hand over the years."
For more information on Iron Horse Park, click here.
stacie@frogemdiainc.ca