A children's book written by a local writer and illustrated by an Airdrie comic artist has been brought to life as an animated video that is available for free on YouTube.
Howdy, I'm John Ware is written by airdrielife contributor and former CBC News reporter Ayesha Clough.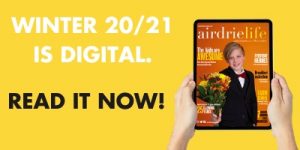 It tells the real-life story of the pioneer rancher who helped establish Alberta's cattle industry in the late 1800s.
John Ware was born around 1850. His family was enslaved in the southern US. After the war was won, and slavery was abolished, he rode his way north to current-day Alberta, working as a cowboy on cattle drives. He helped to bring the foundation herd of cattle to the Bar U Ranch, near Millarville, and helped to get cattle ranching started in Western Canada.
"I want my son – and all Albertan children – to grow up knowing the stories of the incredible people who made the west what it is today," says Clough.
"I want them to have strong local role models, and to be proud of their heritage. John Ware is the first of my Howdy Books series that will also feature Flores LaDue, Tom Three Persons, and Kootenai Brown."
Watch the YouTube video of Howdy, I'm John Ware by clicking on the image below.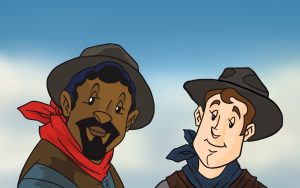 The book features artwork, by Airdrie comic book illustrator Hugh Rookwood. Clough calls his illustrations "showstoppers."
"It's so dynamic and powerful, kids just love it – even more than my words! And to see the characters come to life now in the animated edition – wow!" says Clough.
The video was created by Steve Gervais, a Metis artist and animator from Cochrane, and funded by the Canada Council of the Arts as part of a one-time Digital Originals micro-grant of $5,000 to help artists pivot their work to online platforms.
"It might not be the smartest business move to make the animation available for free, but it sure feels like the right thing to do, especially after the Black Lives Matter movement last year," says Clough.
"We all learned that we need to learn more and do more, and this is my small contribution."
She adds that she is working with a number of school districts to get the video shown to local students.
Clough is now writing her next book Howdy, I'm Flores LaDue. LaDue is the world champion trick roper and 'First Lady of the Calgary Stampede.'
"At just five feet tall, she could rope five horses running at a gallop," says Clough.
"Her husband Guy Weadick is famous for starting the Stampede, but we think it's time Flores gets her time in the spotlight!"
Check out the airdrielife story about the release of Howdy, I'm John Ware on page 25 of our Summer 2020 edition by clicking here.
stacie@frogmediainc.ca