How would you like to get some laughs and support a great cause all from the comfort of your own home?
You can with the Humour for Hospice online comedy event. Humour for Hospice will feature Gemini Award winning comedian and Just For Laughs writer/performer Jebb Fink with proceed going to the Airdrie & District Hospice Society.
"We planned this virtual social gathering to bring a little light and laughter into people's lives at a time when people are feeling very lonely and isolated," says Lise Blanchette, executive director of the Airdrie & District Hospice Society.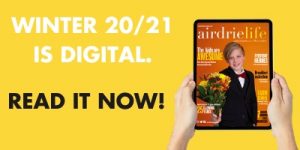 "We hope that getting some hearty laughs together will lift spirits while helping some of the most vulnerable people in our community. What better cure is there than laughter?"
Humour for Hospice will take place on Feb. 14 at 7 pm when Fink will entertain guests on a special "night in" from the safety of their own homes.
"The price for the comedy show is only $25, which we've kept low in recognition of people's financial situations during the pandemic," says Blanchette.
"You can get a beer or a tea, be comfy at home and tune in. Having a laugh is great for your mental health – especially during this cold snap on top of the increased health regulations we're living under."
Proceeds from the event will be directed towards equipping Airdrie with future hospice palliative care beds for patients in Airdrie and the surrounding area, according to Blanchette.
"Jebb is passionate about supporting Hospice," says Blanchette.
"He knows the impact of supporting a loved one and humour is something we can all use."
If getting your laugh on isn't enough for you, the fun does not stop there.
Many Airdrie, Calgary and area businesses have joined forces to donate items for the Society's online auction. The auction will run from Feb. 1 to 14 and can be accessed by clicking here.
Blanchette says there are currently about 40 items up for bid from 30 local businesses including a $250 gift certificate for Air Canada, a variety of wine baskets, a home organizer and interior design package and a golf package from Apple Creek Golf Course.
Tickets for Humour for Hospice are $25 and can be purchased by clicking here.
stacie@frogmediainc.ca