"I want to spread happiness through my art"
The canvasses on the walls of Suruchi Suda's art studio in Airdrie are a mesmerizing testament to her artistry as a painter, but even more so, they express a vibrant passion for colour.
"There is colour in my blood," Suda says. "I breathe colours – it's where I find myself."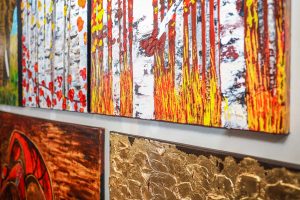 Suda's work is bright and joyful, and even her more subdued pieces glow with a deliberate lightness, revealing a talent that is able to fuse her unrelenting imagination with a remarkable understanding of the power of colour.
"I want to spread happiness through my art; that's why I do all those bright colours," says this mother of two.
Stylish images of the god Ganesha repose in thin layers of brilliant acrylic; a noble elephant pauses in a field of grass, called into being with the strokes of a spatula; textured trees with a canopy of thick, red leaves shimmer in a silent wind – these are just a few of her stunning works.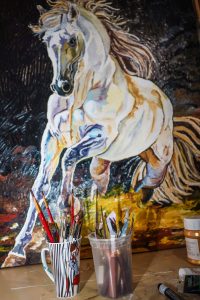 "Every one of them is an experiment," she explains. "I love all art and want to explore everything."
Originally from Bhiwani, India, she credits her mother, also a talented artist, with the seeds of her passion.
"It is in my blood. It is the thing that makes me happy," Suda says, adding that even though she had sketched since childhood and won many awards in India for her artwork, she is reluctant to call herself an artist.
"I'm on a journey," she explains earnestly, "I am not where I call myself a real artist. People don't know who Suruchi is. I'm not Picasso."
However, it is the merging of an ancient culture's celebration of light and colour with the vast beauty of her adopted home that make her paintings unique. Even a simple copse of trees is an explosion of reds, greens and yellows, and Suda's unabashed use of multiple techniques also adds to the mystique. She is lavish with gold and silver leaf, is unafraid of thick layers of paint to achieve an effect, works with brush or spatula, and recently has been dabbling with an unusual tool – her fingers. A large painting of a galloping horse, its supple strength leaping from the canvas in textured strokes of whites, browns and golds, is entirely painted with her fingers.
"It is not easy getting that kind of detail with just your fingers," she laughs.
As a young woman, she did not see a financial future in art, and so earned a masters in business administration instead. After her marriage in 2010, Suda took a year off from work, and it was during this "free time" that she began painting.
"All my friends began to say, 'Suruchi, you're an artist? You do painting? Do more!"'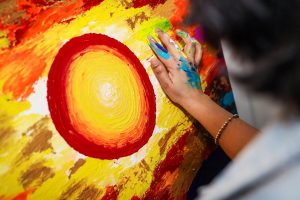 She painted all that year, giving her work away to "their forever homes" among friends and family. It wasn't until the couple immigrated to Canada in 2012 and Suda was between jobs in Airdrie six years later that she found herself with more free time. She began painting again, and this time it was her Canadian friends who encouraged her to sell her art.
"I said, 'No, I can't sell them, who would want to buy paintings by Suruchi? I do this just for fun."'
However, Suda realized that creating art was what she wanted to do, and she and her husband decided it was time to pursue that dream. Since then, she has been devoting her time between her young family, commissions, art shows and exploring the colours of her imagination.
"I love art. If I didn't love it, maybe I wouldn't be Suruchi anymore."