Coat season has arrived! In our climate, for much of the year, your coat or jacket becomes a part, if not the main focus, of your outfit. So, if you're like me, having multiple, affordable coats is the key to creating fresh looks all season long.
A teddy bear coat or fuzzy coat is a trendier option, but adds that bit of whimsy to your wardrobe and can also be super versatile. We carry these in bomber or car coat styles in a variety of colours, from basic blacks to rich browns and soft pinks. These fun little numbers look adorable dressed up with leather leggings and sweaters or tees, but are also my go-to with distressed jeans and a favourite hoodie, too!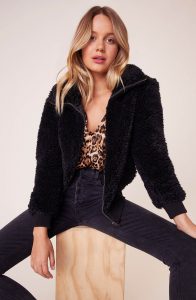 It doesn't have to always be about trends; classic coats in neutral colours are reigning supreme and are an easy way to elevate any outfit. The best part? The same coat can transition from sneakers and leather leggings or skinnies to a gorgeous dress for an evening. One of our most popular coats is the BB Dakota Whisky Business twill coat in a beautiful neutral camel colour. The slimmer fit is perfect for dresses and is also such a cool classic look dressed down with jeans and a big printed scarf. This coat looks great with literally everything.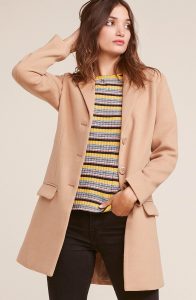 Another fan favourite, and quite possibly one of the most sought-after coats for us Alberta girls, has been our Stockport coat from Pink Martini. The deconstructed, slightly oversized but beautifully draped cardigan-like fit, (appropriately coined the "coatigan"), is just that easy, comfortable style you will find yourself reaching for again and again. Throw it on for school pickups, over your workout gear, with your favourite booties and jeans, or for an evening out. The versatility of this coat is staggering and if you are like me, you will quite likely find yourself coming back for it in multiple colours!
Speaking of colours, prints and colour are wonderful ways to have fun with your coats, too! Rich autumn tones like mustard, bordeaux, rust, chocolate and camel are so appealing, and won't limit you. These tones add a visual pop and look fantastic with everything. Gone are the days of having to "match" your colours! Also, prints aren't going anywhere – tweeds, plaids, and animal prints in neutral tones make a statement that anyone can pull off and add so much visual interest to your look. Right now we have the gorgeous Hadley coat from Pink Martini in a subtle brown-and-charcoal leopard print; the combination of the classic cut with the understated neutral print makes this such an easy, subtle way to try out this fashion must.
Erin Hardy, co-owner, Seven Saints Boutique
Featured Photo Credit: iStock