Small business plays a very important role in our local economy. In Airdrie, like other Canadian cities, 99 per cent of businesses are small. But, the reality is, running a business can be tough. Studies show only 35 per cent of new businesses survive their first five years.
That's where SMARTstart comes in.
It's proven. Business owners with education in entrepreneurship, or previous entrepreneur experience, have an 80 to 90 per cent chance of success with a new business. SMARTstart was designed by a group of local partners and is delivered right here in Airdrie. Its purpose is to provide real-world business skills and access to tailor-made advice to increase the chance of new businesses surviving those first crucial years.
SMARTstart is delivered over eight months in Airdrie. Entrepreneurs who are accepted into the program take part in the following:
Online learning via GoForth Institute of 100 Essential Business Skills™ program;
In-person small group workshops;
Each entrepreneur is paired with an experienced local business owner (volunteer mentor).
At the end of SMARTstart, each entrepreneur walks away with a business plan, feasibility study or strategic plan they have created to set their business up for success.
Learn more at smartstartairdrie.ca
---
In this issue of airdrielife we meet the final four of the program's 2019 entrepreneurs and their mentors.
Entrepreneur: Nick Davies
Business: Co-work space and cocktail lounge
Tell us more about your business:
My concept is a hybrid co-work/cocktail space. A marriage of two ideas: a co-work space which will serve as a hub for Airdrie entrepreneurs, small business owners and everyday residents to gather, work, share ideas. Coupled with a small craft cocktail lounge to enjoy a handcrafted beverage at the end of the day.
What's your biggest hurdle?
Currently the biggest obstacle is me. With the knowledge I will garner in SMARTstart, I will turn that obstacle into a strength, and use it to achieve success.
What's your five-year goal?
I see the business as having grown from a small endeavor to a larger operation which has several employees, and is a household name in the Airdrie community. I see myself as fully immersed in the role of entrepreneur, continuing to improve my mental and physical health in conjunction with the health of my business.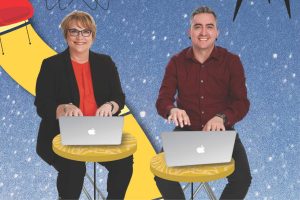 Mentor: Natalie Gibson
Business: InnoVisions and Associates
Years in business: 25
Tell us more about your business:           
I am the owner of InnoVisions and Associates, a boutique consulting firm specializing in economic development and market research. I am passionate about finding the right tools, resources and knowledge to connect entrepreneurs with what they need to thrive and grow.
What do you wish you would have known when you started?
I wish I had known more about the business networks and resources. I did everything from scratch. There are so many tools, tutorials, advisors, etc. Now with the magic of Google these resources are easier to find. Advice – link to business networks.
Why are you mentoring?
I love working with entrepreneurs; I hope to inspire and be inspired. I look forward to helping someone achieve their goals and dreams in business.
---
Entrepreneur: Ryan White
Business: Vinyl wraps for automotive applications
Tell us more about your business:
My business idea is wrapping vehicles in high-quality vinyl films to enhance, improve and customize the look without removing or damaging the original surface. Also offering the application of logos/decals to commercial vehicles for advertising or branding purposes. Offering Airdrie residents and businesses a local option for vehicle graphics!
What's your biggest hurdle?
My biggest obstacle would be that I've never started a business from scratch and have a number of questions regarding doing so. The fact I do not yet have a solid business plan also limits my growth from an investor standpoint.
What's your five-year goal?
In five years I see myself as a leader in vinyl applications. I plan on working with race teams as well as having my work showcased at major car shows. I plan on having a standalone location where customers can see the work being performed as well as shop for a wrap to suit their own personal needs. I see it being both a profitable and rewarding career.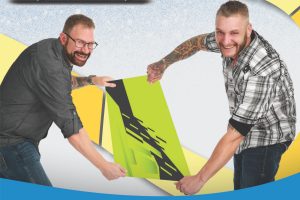 Mentor: Ron Farrell
Business: Beneficial Insurance Solutions
Years in business: 16
Tell us more about your business:
I purchased Beneficial Insurance (it had another name at the time) in 2003, and followed that up with the purchase of Caldwell Insurance in 2007. Over the years, through growth and acquisition, the business has tripled in size.
What do you wish you would have known when you started?
I was lucky enough to have a mentor working in the same office as me (the previous owner continued to work for me for several years after the purchase). Having said that, some training in human resources would have been the most helpful.
Why are you mentoring?
I have always been passionate about business, and I feel that many aspects of business translate well from industry to industry.
---
Entrepreneur: Scott Jones
Business: DigiWave Services
Tell us more about your business:
DigiWave Services is a boutique niche digital marketing agency focused on partnering with small, local businesses to help them grow, utilizing the power of Facebook Messenger automations. At DigiWave, we specialize in four aspects of digital marketing: customer engagements, chatbot automations, lead generation and capture, and social media advertising strategies.
What's your biggest hurdle?
My biggest obstacle in business is the fear of failure. I do not want this venture to be a failure. I want it to succeed, both for myself and my clients, as I feel I can help so many! Once I am given a process, I will follow it religiously!
What's your five-year goal?
I see my business as a thriving alternative or supplement to traditional marketing initiatives. I plan on growing the business from Year 1 revenue of $90,000 projected to Year 5 $750,000 and possibly two to three local employees (students, recent university grads). I want to triple my growth in clientele from 15 to 42 over that time period, increasing the average account value from $500/month to $1,500/month.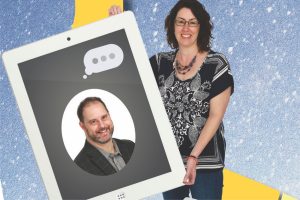 Mentor: Robyn Pearson
Business: A Friend Indeed
Years in business: 8
Tell us more about your business:
A Friend Indeed provides companionship and in-house, non-medical support for seniors. We match a family's loved one with one of our friends for engaging visits that ward off mental, physical, social and emotional decline and give them a chance to play – just like they used to. We serve seniors in Airdrie, Didsbury, North Calgary and area.
What do you wish you would have known when you started?
"Ignorance is bliss." There is a lot of truth to that saying. When you don't know – you try! Feedback is given and adjustments are made. Repeat, repeat. Guidance is sought and stumbled upon along the way. Start with your vision in mind and take action. It's my experience.
Why are you mentoring?
I have had wonderful people show up at certain times throughout my journey and I want to pay it forward.
---
Entrepreneur: Tara Reid
Business: Group INC
Tell us more about your business:
We run a full-service interior design and renovation company that acts as the main general contractor onsite. We do everything from full-home remodels to kitchen, bathroom and basement developments. My partner Calvin and I decided it was time to work together and start up something bigger that would create a legacy for our family.
What's your biggest hurdle?
Sustainability and rapid growth. The ability to ensure cash flow is maintainable.
What's your five-year goal?
With a storefront design centre where clients can come and look at the latest selections and choices for home decor.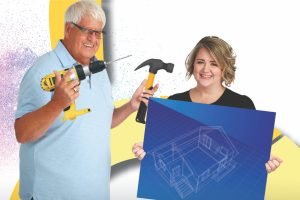 Mentor: Sid Van der Meer
Business: Retired
Years in business: 39
Tell us more about your business:
NWEL Holdings Ltd. (14 years as a property holding company and I am the president.) My previous company was Northwest Equipment Ltd. and I was the president. We had 42 employees and three locations in Canada. I sold the company in 2014 and have been retired since then.
What do you wish you would have known when you started?
I wish I knew then what I have learned over the years. It would have been great to have had a program like SMARTstart. I did have some great mentors over time and it took me a while to understand they were mentors.
Why are you mentoring?
I enjoy working with business-minded people and helping them understand and achieve their vision. I enjoy sharing my experiences and knowledge.