"My back bar is my spice rack … with all the different liqueurs and spirits, the possibilities are endless"
Old-Fashioned, Dark and Stormy, Moscow Mule ­– cocktails have a variety of exotic names and ingredients, but at Airdrie's Sorso Lounge they have one thing in common, London Richard.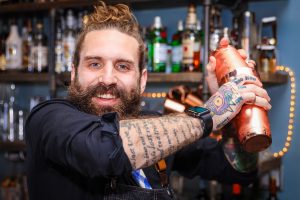 Raised in a small town just outside Montreal, Richard has travelled the world working and competing as a bartender, but Airdrie is home now.
"I love it. I like that sort of small-town feel."
Mixologist, drink connoisseur, bartender – cocktail makers are known by a few names, but Richard's not big on titles.
"At the end of the day, what I do is no different than what a chef does – I create an experience for you."
Except, of course, his menu involves the skillful blending of spirits, water, sugar and bitters.
"My back bar is my spice rack … with all the different liqueurs and spirits, the possibilities are endless."
Making cocktails, notorious in 1920s prohibition era, has evolved, and with the different types of bitters, tinctures and shrubs (flavour-infused vinegars) available now, he says, "It's become very competitive."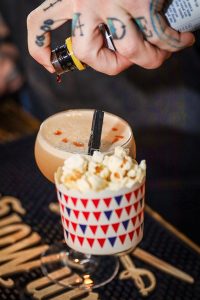 Growing up in Montreal, Richard frequented nearby New York City, and it was there that he became immersed in its cocktail culture.
"I was really lucky. I was mentored by Jeff Bell, who is arguably one of the world's best bartenders."
Bell manages New York's PDT – Please Don't Tell – a bar that has no address and no website, and patrons enter through a telephone booth.
"It's like a traditional prohibition speakeasy."
Richard says it was a classic Old-Fashioned cocktail prepared by Bell that changed his life.
"It was a crazy thing. It was just a simple cocktail, but the way he put it together, it just opened my eyes."
His journey has led to winning several awards in bartending competitions in North America and Europe.
There is mythology associated with cocktails, Richard explains, such as recreating speakeasies or "flare" bartending, portrayed by Tom Cruise in the 1988 movie Cocktail. Richard says he could spin a bottle seven times in the air, but "in the end, the drink tastes the same."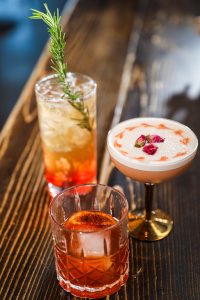 In 2017 Richard became a managing partner at Sorso, where owner Dmitri Martini, a cocktail enthusiast in his own right, had created some of Sorso's most popular libations like the Original Spiked Kombucha (one of the first in the province), the Sullys Grilled Cheese Caesar, the Front Porch and the house Sangria.
With Richard on board, Sorso has a full cocktail menu, and he is always open to experimentation.
"It's part art and part science. Every customer is different, and so is every drink."
Martini agrees: "What I love about cocktails is there is no end to the creativity that you can express through them."
The bar has been officially raised on cocktail culture in Airdrie.