Small business is big in Canada, accounting for 97.9 per cent of all businesses. While it's the engine of our economy, running a small business is a profession that is both rewarding and challenging. Statistics Canada reports that of the more than 100,000 new businesses created every year, one third do not survive their first five years.
However, it's been shown that business owners with education in entrepreneurship have an 80 to 90 per cent chance of success. Airdrie's SMARTstart program aims to provide that education and channel the energy and enthusiasm of new entrepreneurs into growth and learning through eight months of small business training.
This made-in-Airdrie entrepreneurial training program offers online learning, workshops with local experts, mentorship and business planning to people with a business idea and owners who have been in operation for less than three years.
The strength of the program comes from giving new entrepreneurs access to the knowledge and mentorship of those in the business community who have "been there and done that". The slate of accomplished business professionals who have volunteered as mentors help participants navigate many of the challenges typically encountered when starting a business.
Each program participant walks away with a completed plan – either feasibility, business or strategic – and connections to the supportive Airdrie business community.
Over the past nine years, 133 entrepreneurs have completed the SMARTstart program. The 2023 cohort is made up of 13 entrepreneurs – two with an idea for a business and 11 who have already started their journey.
To learn more about the SMARTstart program, visit airdriecommon.ca/smartstart.
CORE BALANCE CENTRE
NAME: MICHELLE SPERANZA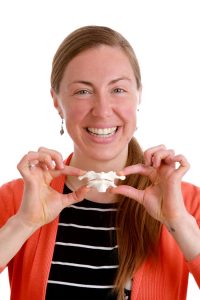 Core Balance Centre is a dedicated upper-cervical chiropractic clinic. We follow the NUCCA protocol, which employs a set of chiropractic procedures to specifically assess and treat head and neck injuries. I work with people suffering from headaches, concussions, dizziness and neck pain. What makes our centre unique is that it is the only NUCCA practice between Calgary and Edmonton, which made Airdrie an ideal location to expand to.
Why entrepreneurship? I reached a point as an associate and in my learning where I felt like my growth was starting to plateau. As I re-evaluated my goals and ambitions, I realized that in order to grow as a practitioner something needed to change. I began to explore the idea of starting my own practice and became re-motivated by the creative energy this induced and all the possible ways in which I could continue to help others.
What I hope to learn: I hope to develop better business management skills to enhance my business operations. I want to build a strong foundation on which to be able to grow my practice so that I can be in a position to hire my own associates and assistants and be able to take care of more people.
MENTOR: TARA PICKFORD, AMBITION PERFORMING ARTS & PICKFORD CONSULTING
My advice to entrepreneurs is: Never stop learning. We don't expect athletes to succeed without a coach or a mentor, and we need to consider that we need this structure to succeed in business. Invest in yourself and your journey.
JENNINE KELLY HR CONSULTING
NAME: JENNINE KELLY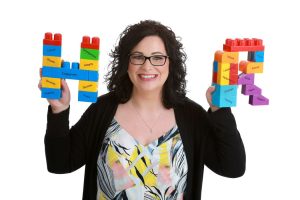 I provide customized Human Resources (HR) consulting for a wide range of clients and creating HR solutions that meet each of their specific needs is where I thrive. I'm not one to provide a one-size-fits-all strategy. Every organization is different so why would their HR needs be the same? I have many services that companies can pick and choose from, including HR support on a monthly retainer, assessing HR needs, recruiting, onboarding, conducting job analysis, salary reviews, planning for the future, investigations, and job seeker services including resume and interview support.
Why entrepreneurship? This business was started after the hit of the pandemic. I lost my position, like many of us, and I knew that was my time to take the plunge. I had no experience in starting a business but was up for the challenge. This truly is a dream of mine and I love where I am at right now.
What I hope to learn: I hope to gain a better understanding of the business side of things as well as meet other small business owners to build a strong network in and around Airdrie.
MENTOR: KARI LINES, BUDGET BLINDS OF AIRDRIE
What do you wish you knew when you started your business? I wish I would have obtained a mentor and a business coach earlier on in my career, as the ones I have now are extremely valuable.
GUMMI BOUTIQUE
NAME: CAELEN HANEY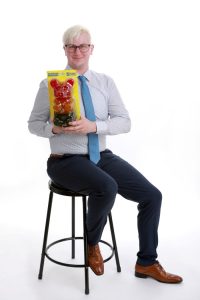 Gummi Boutique is Airdrie's premier candy destination! We focus on hard-to-find products, including imported confections and beverages, novelty sweets, ice cream and more. We've also worked with local artisans to curate a collection of specialty items. Moving forward, we are focusing on expanding Gummi Boutique in the fields of e-commerce and wholesale production.
Why entrepreneurship? I have been an Airdrie resident for over 25 years and bring 15 years of management experience to my new role as a business owner. There has always been demand for specialty candy items, but there was no one to service that need. The rest of the pieces fell into place on their own when an excellent opportunity arose to purchase a space that was already established in Calgary. We then expanded and opened a second location in Airdrie in 2021.
What I hope to learn: My goal for the program is to gain insight into the inner workings of what makes a successful business. I have extensive knowledge in front-end management but would like to further my knowledge in the areas of finance management and the legal aspects of running a business.
MENTOR: HEATHER HARKE, SHOPLIFT DEALS
My advice to entrepreneurs is: Expect and plan to adapt in your business. You can always maintain your business ethics and focus but learning to adapt your business as needed is one of the most important skills of entrepreneurship.
EMPIRE DETAILS
NAME: PAMELA PAYNE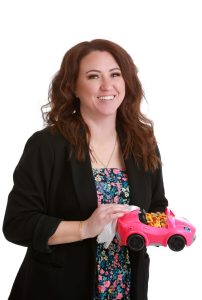 In 2018, I took some time to clean my car after leaving my job of 15 years. As I was driving home, I wondered if there were other busy moms that would like me to come to their home to clean their vehicle and cross one item off their never-ending to-do lists. I made a post in a local moms' group on Facebook and 202 comments later, Empire Details was born and I was booked through the entire summer. Over the years I have evolved, learned, and grown into both a mobile business and an industrial location.
Why entrepreneurship? I was raised in Airdrie and have one daughter who is super-helpful and involved in my business. I believe it is important to remind women that there is no limit to what they can achieve, and that they deserve to be pampered once in a while.
What I hope to learn: I feel like I fell into this position and need to catch up with Business 101. I'm looking forward to completing a plan and roadmap for my business that allows me to confidently move forward.
MENTOR: MICHELLE TENNANT, LOCHSMITH CONSULTING
What do you wish you knew when you started your business? I wish I had learned how to prioritize and set boundaries to avoid feeling overwhelmed. I also wish I had listened to my intuition more and my ego less.
NOGGIN NUTRITION
NAME: GAIL FUHR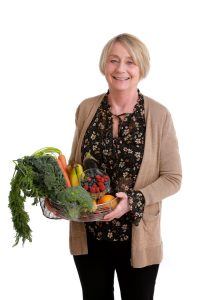 I am a certified holistic nutrition consultant and have worked in the health care field for 40 years as a dental assistant and registered nurse. Through Noggin Nutrition, I want to teach and empower people to improve and balance their health with whole, dense foods and lifestyle and spiritual recommendations. I believe people want to eat better and feel better after two years of COVID.
Why entrepreneurship? I want to make my own decisions and control my destiny. I'm passionate about helping people and learning. In five years, I see myself presenting online courses and giving seminars on healthy eating and lifestyle. I want to explore the possibility of opening a brick-and-mortar store where clients can come to get help from a variety of alternative health practitioners.
What I hope to learn: I want to develop a business plan and learn how to stay on track with it. I have lots of ideas for my business but don't know how to move forward.
MENTOR: GARY ARMSTRONG, EMPOWERED EMPLOYEE EDUCATION
My advice to entrepreneurs is: Have a clear, concise, actionable plan.
HEIDI'S PIES
NAME: BRIANNA HORNCASTLE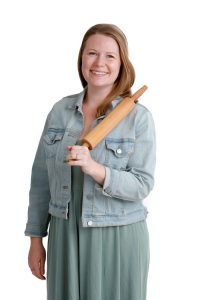 Growing up helping my mother Heidi create pies, I grew to love the art of baking. During COVID, I craved connection and that feeling my parents' store brought to myself and the community. So I decided to start the journey of creating my own business to one day connect with the locals of Airdrie. My idea is to create a bakery/meeting space where I could provide daily baked goods and refreshments, all while hosting culinary/artistic events.
Why entrepreneurship? These pies have a deep history in our family, and I want to keep the recipes alive. The need to have more creativity in my life, all while creating an excellent product, is what ignites my entrepreneurial spark.
What I hope to learn: I hope SMARTstart will assist with teaching me the foundations needed to think like a business owner. My goal is to create a Pie House where the community can gather and enjoy.
MENTOR: TRACY GOODBRAND, IRRICANA KOUNTRY KENNEL
What do you wish you knew when you started your business? I wish I had found a good business coach sooner rather than later. They make such a difference and you don't have to re-invent the wheel!
MI SOCIAL CONSULTING
NAME: CHEYENNE DEWITT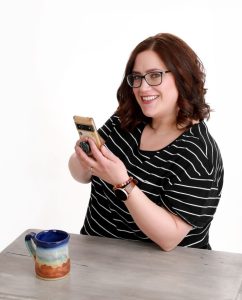 MI Social Consulting is an affordable marketing service for small business owners. In 2021 I was offered a part-time position as a content creator and I loved it! Some education and a lot of guts later, I took the leap and ventured out on my own. As a highly trained digital expert and marketing specialist, I have the vision to take my company and clients to the next level.
Why entrepreneurship? My girls are the reason I do this. MI Social Consulting was born because of them – their first initials are M and I. I wanted to be able to show them how hard I work at something that scares me. But I show up, try, and never give up.
What I hope to learn: I never thought I would start my own business, so I am excited to learn from like-minded businesspeople and grow from their lessons. I want to be able to explain my business to people with a clear and concise elevator pitch and build a business plan that has room for growth.
MENTOR: JENNIFER BENNER, BENNER DATABASE DESIGNS
My advice to entrepreneurs is: Don't get so caught up working in your business, you forget to work on your business. The mark of a successful enterprise is one that can operate without you.
AIRDRIE RENOS
NAME: RICHARD BAPTIST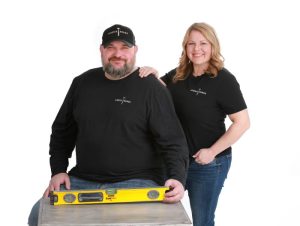 Airdrie Renos offers residential and light commercial building services including basement developments, bathroom renovations, flooring, doors, finishing carpentry, painting, decks, fencing and garage packages. Owning and operating a similar business with a partner for years has given me lots of experience with various building projects. The partnership was no longer a fit so this is a fresh start – something of my own to be able to mold into what I want the business to be.
Why entrepreneurship? I am looking to grow the business so that it can be a legacy to our kids and so I can manage rather than be on the tools as much as I am.
What I hope to learn: I know I could use the help of staff and without them I am not able to grow past what I can physically do myself. I don't know how to take that next step and look forward to building a plan to help.
NAME: TYLER BAPTIST
We love to help clients design their spaces so they are not only beautiful but are also functional for them. We also offer tips on how to ensure that the changes they make to their home will add value to their property for the future.
Why entrepreneurship? When I decided to become a full-time realtor, my husband was behind me 100 per cent. When my husband decided to move on from his previous business partnership and begin Airdrie Renos – I was in 100 per cent. Working with my husband in this business and growing it into a legacy for our kids is an honour and I am so proud of him and us.
What I hope to learn: We've had some early success and are ready to grow. How do we get to that next step of having trusted staff and a growing company?
MENTOR: SID VAN DER MEER, RETIRED (NORTHWEST EQUIPMENT LTD.)
My advice to entrepreneurs is: You have selected your business to rotate dollars, your job is to rotate as many as you can and keep as much as you can for yourself. Spend 10 per cent of each day on what you will be doing three years from now. This will help you keep on track and when you get there what you planned will already be in place.
HIGHER FREQUENCY TRAVEL
NAME: SAMANTHA BARNASCHONE
As your Travel Professional, I will save you time and money while taking care of the planning and organization for your wellness vacations, luxury vacations and romantic escapes. When using my expertise and the connections I have in the industry, you will get exclusive amenities that are only available to me. My goal is to bring your energy to a higher frequency through traveling to beautiful destinations around the world.
Why entrepreneurship? Before I registered my business, I had the opportunity to attend my first out of country business conference. I was so excited to be a part of something with so much potential. I love to learn and try new things and plan to grow multiple businesses as a result of my experience in the SMARTstart program.
What I hope to learn: I would like to develop my ideal client avatar and learn more about marketing for customer acquisition and retention. I plan to develop a business plan and work with my mentor to set realistic goals.
MENTOR: JOAN TRAUB, RETIRED (AIRDRIE YOGA STUDIO)
What do you wish you knew when you started your business? I wish I had better understood the time commitment involved in starting and running a successful business. At times, being an entrepreneur can be overwhelming, but the rewards make it totally worthwhile.
ATLAS BREWING
NAME: CHRIS GUSHUE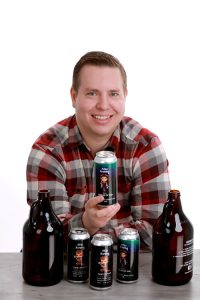 I developed a love of craft beer when I lived in Australia and after moving back to Airdrie I found it a challenge to travel to downtown Calgary breweries with young kids. Having local breweries allows residents to become part of the local community, to meet people and to support local causes. I look forward to being part of this while creating something I love and am passionate about!
Why entrepreneurship? I have always had an entrepreneurial spirit from a young age and now finally have the courage to step out of my comfort zone and work on something that not only challenges me, but allows me to see the rewards of the hard work I put in.
What I hope to learn: I hope to refresh what I learned in business school and use those techniques and skills to help Atlas become a leading craft brewery in Airdrie that I and the community are proud of.
MENTOR: KELLY PAISLEY, THE I.T. COMPANY
My advice to entrepreneurs is: Don't get so caught up in running your business that you forget to take care of yourself.
BLOOM NARRATIVES
NAME: SHARLA CROWIE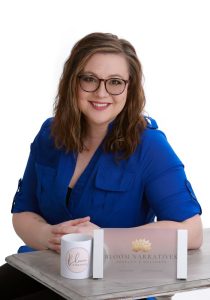 I've been working in the field of mental health for over 14 years, and it's my passion to support people in their journeys to healing and growth. At Bloom Narratives, we believe that focusing on health holistically is essential. We offer mental health therapy, dietitian services, workshops, and educational resources to help individuals and relationships thrive with courage and authenticity.
Why entrepreneurship? I want to make a real difference in the world by using my experience and knowledge to help rid the stigma and shame about getting help and sharing how getting support can look different for everyone. Pursuing this vision of whole-body wellness was the ignition to the spark in me to become an entrepreneur.
What I hope to learn: I am looking to build a strong foundation of skills with SMARTstart so that I can create and execute a sustainable long term growth plan for my business. Most importantly, I want to learn collectively with and from others in this space, as I believe in sharing wisdom and experience to help others succeed as well.
MENTOR: DR. MELANIE BEINGESSNER, BLESSINGWAYS CHIROPRACTIC
What do you wish you knew when you started your business? It is okay to factor your own needs into the equation when you are starting your business. It is absolutely necessary to dream big AND to ask for help to grow your business. life