"That's the ultimate goal – to have more people out fishing, enjoying the outdoors"
For Wes David, going fishing and going to work are synonymous.
This summer, the outdoorsman is filming season four of Fishing the Wild West TV with Wes David, with the help of local videographer and angler Chuck MacPherson. Through the program, they highlight great fishing opportunities available for beginner to advanced anglers in Western Canada and the Northwestern United States.
"We show the realities of fishing," says David of the fun and educational program. "Every cast is not going to be a monster."
Each season includes 13 episodes aired on the World Fishing network, Wild TV, the Sportsman Channel, CTV 2 and local cable companies.
The show's success has the duo booking their schedule about two years in advance. Past seasons are available on their website (fishingthewildwesttv.com) after a year of TV airing.
Most of the episodes are filmed at easily accessible lakes and streams, while four are filmed at remote or fly-in resorts anglers dream of as trips of a lifetime.
David says one of the most popular episodes was to show parents and kids what they can fish in stocked ponds with a $35 fishing license and $25 in gear.
"[I] was really nervous about releasing it, because there was no big fish on there, but it was one of our most received episodes," he says. "I hope we've got a few people out fishing, and that's the ultimate goal – to have more people out fishing, enjoying the outdoors."
Produced by his own company, Bullets & Bait Productions, David started filming Fishing the Wild West TV in Canada and has since filmed in the U.S. in response to requests from fishing destinations.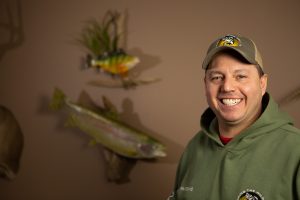 The journey
David's road to network TV has wound like an old river, not direct, but with a definite dream destination.
"I grew up on a farm, and I used to ride bulls for a living," he says, noting injuries ended his bull riding career, leaving him missing the competitive-camaraderie of the sport. So, he took up tournament fishing at professional walleye events.
"I started doing really well, and the people there were amazing," says David, who began writing for magazines at the same time.
Then he was asked to speak at seminars at sports shows in Calgary and Edmonton and eventually Texas.
The World Fishing Network approached him to see if he would be interested in doing a show, and he was.
"The first year was a big learning curve," says David. "We've learned so much from that, and going into our fourth year, we're so excited."
Today, he has a full-time cameraman in MacPherson, and his wife, Suzie, helps him field the office duties of operating a TV show while continuing to write for magazines.
Filming his show had him on the water 125 days in 2018, only three of which were for personal enjoyment with his niece. Many days it rains or snows, and some days are too cold to fish for the sake of the fish and the camera gear.
"There's times when you're cold and [in] brutal conditions, and you don't feel like being on the camera," says David. "And poor Chuck, he's not even fishing. He's trying to hold the camera stable [with] rain beating down on him."
But all the efforts are worthwhile for David.
"It's very flattering when someone comes up and wants a signed picture or wants to just talk fishing," he says. "It's a true honor that they value my opinion, and that's a reward in itself – just to talk fishing with everyday people."
David encourages local families to get outside, and to join the Airdrie Hunting & Fishing Association (airdriehfa.com).