From my point of view, the best part of being an Economic Development Officer is the opportunity to work with the local business community.
Entrepreneurs come to Airdrie looking to open a range of different business types. Some are located within their home, while others choose a storefront location. Many are large scale businesses, while others are small businesses. A number offer retail products, while others bring services to our community. No matter what the make-up of the business is, assisting entrepreneurs who are chasing their dream and bringing their passion to Airdrie, is a privilege to be a part of.
In any community, there are typically three primary sources of growth: existing business expansions (80 per cent), incoming new business (11 per cent) and start-up operations (nine per cent)1. Airdrie aligns with these statistics, as we have seen several business expansions over the last few years. Expansion can be different for each. Business owners may be looking to grow their physical footprint, increase staff resources or offer a new product or service. Building relationships from day one offers the City's Economic Development team the ability to assist these businesses when the time is right for them to scale.
On the City's most recent business survey, almost 100 respondents told us they are looking to expand. Knowing what local businesses have persevered through in the past few years, our team is thrilled to see these numbers. Digging deeper into the data, our team plans to connect with these businesses to assist them with their needs, offering connections to resources wherever possible.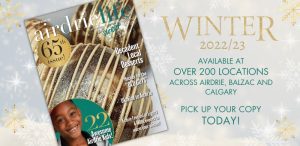 A great Airdrie-based expansion story is Micro Acres, who produce fresh, organically grown microgreens. Owners David and Kristin saw a gap in the food supply chain and decided to meet this need by opening a business in the basement of their home. Quickly outgrowing the 500-square-foot space, the obvious choice was to find a new storefront location that would allow them to keep meeting consumer demand. Moving into a vacant industrial building gave them the opportunity to diversify the business to include additional retail options and build a consulting service. Now, almost five years later, they are scaling again, hiring staff, and moving to an even larger facility where they can continue to nurture their business. Micro Acres is a true entrepreneurial success story!
Entrepreneurs aspire to scale their business while building an operation that is both sustainable and profitable. On average, the City issues 40 new Airdrie-based licenses a month – that is a lot of new businesses for our team and the community to support, nurture and encourage throughout their lifecycle. Our goal is to ensure they stay in our community and grow here.
For a full listing of the 2022 Airdrie Business Survey results visit www.airdrie.ca/businesssurvey and to check out Micro Acres delicious products visit www.microacres.ca.
Tara Levick is an Economic Development Officer with the City of Airdrie
Source: 1 Blane, Canada, Ltd. "Beyond the Basics – Advanced Business Retention"