Entrepreneurs require a very practical understanding of how to start and run a business. Unless you are a serial entrepreneur, chances are you don't have all the necessary knowledge and skills. You could acquire them through experience, but that is risky and takes time.
Airdrie's SMARTstart entrepreneurial training program can accelerate your learning, helping you avoid costly mistakes. This made-in-Airdrie program offers online learning, workshops with local experts, mentorship and business planning to people with a business idea and owners who have been in operation for less than three years.
The magic of this local program is gaining access to those who have "been there and done that" – these entrepreneurs and business professionals can help you learn how to navigate many of the challenges typically faced in starting a business.
Each program participant walks away with a completed plan – either feasibility, business or strategic – and connections to the supportive Airdrie business community.
In the past eight years, more than 125 entrepreneurs have completed the program. The 2022 program is made up of 10 entrepreneurs representing nine businesses and 11 mentors.
This issue, we feature our final four participating entrepreneurs from the 2022 cohort.
WAREHOUSE SPIN & BARRE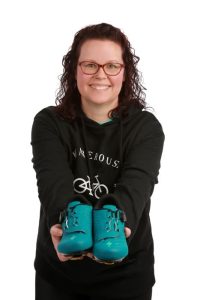 Becky Urban
My husband Kevin and I are excited to be the 'new kids on the block' for fitness in Airdrie! Warehouse Spin & Barre aims to provide a fun and inclusive community for everybody and every body. I am motivated by community and was craving a place to go and work out without judgement. I decided that if the opportunity doesn't exist, create it!
Why entrepreneurship: I'm driven to provide a fun, vibrant future for my family. As a lifelong resident, I'm excited to share my passion with Airdrie and run a studio people will be proud to be a part of.
What I hope to learn: Things I haven't thought about – the ins and outs of starting and running a business. I'll be working with my mentor to develop a sense of community within the business and establish marketing and social media strategies.
Mentor: Heather Harke, Shoplift Deals Limited
What do you wish you would have known when you started: I wish I would have known about SMARTstart! It's why I support and share about the program now; to help others avoid feeling alone or without knowledge on progressing their business without trial and error.
BRIGHT LITTLE MINDS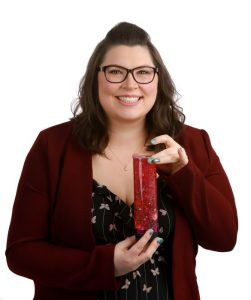 Jonelle Beaulieu
As a parent, I know just how important the brain development of young children is. Through my business, Bright Little Minds, I offer affordable sensory gifts for parents who don't have time to prepare their own activities. Sensory play allows your child to lead their play while avoiding or reducing screen time. Top-selling products that stimulate the senses and engage children in play include: heavy object sensory bottles, eye spy bottles, slime, sensory kits, playdough kits and more!
Why entrepreneurship: I have always loved creating and being crafty, spending the early years of my son's life developing activities for sensory play. His joy melted my heart and my posts on Instagram generated interest in what I was doing. I have always wanted to be an entrepreneur but was never sure what my business would be, until the opportunity was literally right in front of me.
What I hope to learn: In five years, I see my business as a full-time venture. Getting my name out there with a solid marketing plan and an e-commerce website will help me to reach my goals.
Mentor: Dr. Melanie Beingessner, Blessingways Family Wellness
My most important advice to any entrepreneur: You don't have to re-invent the wheel. Find someone who is doing what you want to do and take them out for coffee! Or in our virtual world, reach out and make a connection with someone online. I guarantee that you'll learn something to make your life easier and better.
LIFT THE VIBE EQ ASSESSMENTS + TRAINING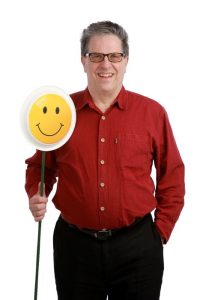 Martin Linlove
Since I was a teenager, I have been intrigued by human development. Essential skills and emotional intelligence greatly increase your chances of success in the workplace. In addition, they add confidence to your personal life. Emotional intelligence is the ability to identify emotions, react appropriately, support others and make sound decisions. My new venture aims to provide personalized and group EQ-I 2.0 & EQ 360 Assessments with comprehensive reports and coaching to any business.
Why entrepreneurship: COVID has shifted so many things in society including highlighting the great need for support with mental health and overcoming obstacles, plus improving the way education and consulting is delivered online. Now is the perfect time to put my passion for human development into action.
What I hope to learn: I have been researching for a few years, attempting to create an online business. As I have 35 years as a director of sales and marketing in the hospitality industry, EQ training is the perfect blend of selling and teaching for me. I will be completing a feasibility study to define my product offering, determine the right audience and building a solid marketing plan.
Mentor: Tracy Goodbrand, Irricana Kountry Kennel
My most important advice to any entrepreneur: Find a great business coach who can mentor you along your business journey – they are worth their weight in gold!
NRG FITNESS INC.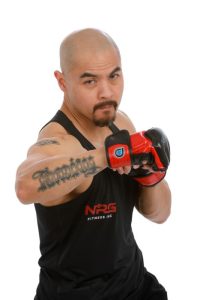 Jay Raymundo
Have you invested in a home gym but need some guidance and accountability to build muscle and/or lose weight? My business, NRG Fitness Inc., offers online coaching and workouts for all fitness levels, including daily LIVE workouts and pre-recorded workouts such as HIIT, Zumba, Yoga, PiYo, Cardio Combat, XFit, Strength and Conditioning. As demand for my services increases, I aim to expand my online fitness platform nationally and open a bricks and mortar personal training/group fitness studio in Airdrie to service individuals, sports teams and employee wellness programs.
Why entrepreneurship: I want to make a difference in people's lives by doing what I love to do. I like knowing that they are much more confident and happier because of me. It is important to me to teach my kids to follow their dreams, the rewards of hard work and the pride that comes with ownership.
What I hope to learn: I need to build structure and financial literacy into my business. I'm about the wow, but don't know how. Developing systems, financial planning and marketing are my top priorities for the program.
Mentor: Tara Pickford, Ambition Performing Arts
My most important advice to any entrepreneur: You don't know what you don't know until you know it. Finding a mentor is important because they have been there before you and can offer advice and be a sounding board at critical times in your career.
MENTORS AT LARGE
What is the No. 1 quality an entrepreneur needs to have in order to be successful?
Joan Traub (retired, former owner of Airdrie Yoga Studio): passion. They need to believe in their product or service and their ability to outshine their competition.
Jo-Anne Yau (Robertson LLP): An entrepreneur must be able to read the market – know where consumer demand is, where it's going, and how to fit into the market.
Missed part one in the Summer 2022 issue?  Click to read below.