Being an entrepreneur is a tough, but important, job.
Small business is big in Canada, accounting for 99.8 per cent of all businesses. While it is the engine of our economy, the profession is both rewarding and challenging. Statistics Canada reports that of the 97,000 new businesses created every year, one third do not survive their first five years.
The SMARTstart program aims to channel the energy and enthusiasm of new entrepreneurs into eight months of small-business training. It's proven that business owners with education in entrepreneurship have an 80 to 90 per cent chance of success.
This made-in-Airdrie entrepreneurial training program offers online learning, workshops with local experts, mentorship and business planning to people with a business idea and owners who have been in operation for less than three years. It is all about providing real-world business skills and access to the coaching entrepreneurs need to help set their business up for success.
Each entrepreneur walks away with a completed plan – either feasibility, business or strategic – and connections to the Airdrie business community.
In the past eight years, more than 125 entrepreneurs have completed the program. The 2022 program is made up of 10 entrepreneurs representing nine businesses and 11 mentors.
Over the next two issues, we feature our participating entrepreneurs.
BONFIRE SHADES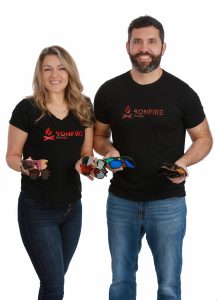 Courtney Steranko
Add some fun, flare and style to your sunny day. Bonfire Shades are full UV protective sunglasses with bamboo arms, a lightweight feel and polarized lenses. My husband and I recently took over a friend's startup business and are excited to bring these affordable products to you via our online store and in person at local markets.
Why entrepreneurship: Connecting with people and creating impact has been the fuel to my fire. I have a lot of enthusiasm for what I love and I have been so fortunate for my online network marketing business that has kickstarted this all in my pursuit of connecting with my passions and purpose. I want our girls to grow up knowing that any and all opportunities are worth exploring and that personal growth, taking risks, accepting challenges, giving back and helping others is essential.
What I hope to learn: How to develop a business plan. I also want to establish roles and responsibilities in our partnership and learn how to do email marketing.
Jaret Steranko
Our sunglass company has great products, great energy and the potential to be a big success. There are seven different styles and they come in many different colours. You'll find a colour and style for every occasion.
Why entrepreneurship: I have been a firefighter for over 10 years. In 2019 I slipped off the truck at work and tore my Achilles tendon. Since being off work, I have been unable to do the things that I normally do, and this challenge was exactly what I was looking for.
What I hope to learn: We would love to see our shades in local stores and across Canada. I feel like we are just "winging it" so far and think getting help with organization would be a big win for me. I don't have any experience with running and owning a business, so want to feel more confident when making decisions.
Mentor: Kari Lines, Budget Blinds of Airdrie
What do you wish you would have known when you started? I wish I would have acquired a mentor and a business coach earlier on in my career as the ones I have now are extremely valuable. I also wish I would have known to not take things personally when it comes to business.
CHENG'S BUBBLER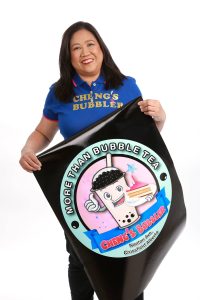 Emalyn Plazo
Cheng's Bubbler offers bubble tea with a twist – our bubble teas and smoothies are made with fresh fruit versus the fruit powders commonly used. We also offer croffles, which are a marriage between a croissant and a waffle iron, served up with deliciously sweet toppings like brown sugar, ice cream, chocolate and fresh fruit. I opened the first shop in Crossfield this winter and hope to expand to a second shop in Airdrie within one year.
Why entrepreneurship: I love to talk and mingle with people, hear their story and serve them food that will start up a conversation. My previous business failed through COVID – I have come to realize that failing is just the other side of the road and SMARTstart is a guiding hand that can lead me in the right direction.
What I hope to learn: How to boost my marketing strategy, be able to do my own accounting and properly do business in Canada. In the next five years, I aim to have a chain of businesses.
Mentor: Gary Armstrong, Empowered Employee Education
My most important advice to any entrepreneur: Have a clear, concise, actionable plan.
JESA TRAVEL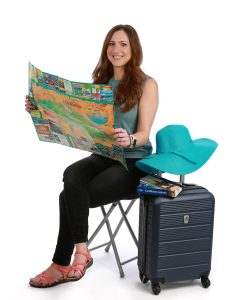 Jessica Abramyk
Jesa Travel focuses on travel that gives back. I match travellers with their ideal vacation while ensuring that the tour operators I work with embrace responsible and regenerative tourism practices. I also plant five trees in Canada once a booking completes their travel. My business idea evolved from my love of travel, other sustainable businesses, wanting to spread positivity and giving back.
Why entrepreneurship: I believe that the world can become a better place when we get out of our comfort zones, see what beauty there is in other countries, and experience other cultures. By combining my passion for adventure, a knack for organization and drive for success, I know I will create a business that brings myself and my travellers joy.
What I hope to learn: How to optimize my time and be very organized. I would also like to learn more about the legal side of running a business and gain more skills in entrepreneurship. My biggest goal is perfecting my customer journey to ensure they have an incredible experience from start to finish.
Mentor: Ankur Goklaney, La Capitale Financial Security
My most important advice to any entrepreneur: In order to succeed, you must believe you can!
ECOLOGY OF EASE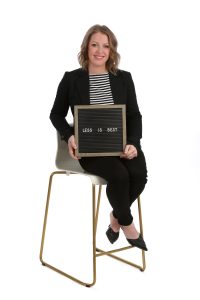 Chelsea Dunlop
I am motivated to help people with overwhelm and to live an easier life. Ecology of Ease will assist people to conceptualize their home and routine as an important piece of their personal ecosystem. Using a minimalist mindset, I will help clients re-evaluate the contents and functionality of their home with a goal to save them time and money.
Why entrepreneurship: After earning my M.Sc., I made the choice to care for my young children and to move internationally to support my spouse's career. An extended absence from the paid workforce made it challenging to secure a job in my field. But my life experiences of constant relocation and seeing how others live had given me new perspectives and skills. I realized I could pair my drive to help others with my love of sharing minimalism.
What I hope to learn: I hope SMARTstart can teach me how to earn an income doing what I love. I think all the workshops will be invaluable in teaching me things I likely hadn't even considered. I'm very grateful to have a mentor who has walked this path before and think it will be great to have peers to learn alongside.
Mentor: Jennifer Benner, Benner Database Designs
What do you wish you would have known when you started? I wish I'd had a better understanding of my personality traits and how to use them to their full advantage. I also should have had a scalability strategy in place as part of my business plan.