Ryan Cameron had been mulling over the idea of opening a co-working space in Airdrie.
As the owner of several commercial real estate properties in the city, Cameron heard a need to create a space that people could rent for short periods of time instead of taking on a long-term commitment.
That's when one of his tenants, a small yoga studio, informed Cameron they were shuttering.
"A lot of yoga, fitness and wellness practitioners are a one-man band. So, they lug everything in the trunk of their car and rent out church basements or places that aren't really great for their classes," says Cameron.
"Here we had this space in Airdrie that was already built for wellness programming, that could store people's stuff – so we decided to try out this coworking concept."
A SHARED SPACE
The Collective by Modern Elevation opened in September 2020. It's described as a shared studio for wellness practitioners to offer their services in Airdrie. The "purposefully designed environment" works to bring peace and tranquility to any program clients offer.
Clients can rent out the space for a couple hours, a whole day or a few days.
"It's kind of a weird concept. You can do whatever you want in there, and that is why you see the breadth of the programming there going on in that space," Cameron says.
"Something I think that has happened very organically is that we've built a real community of wellness professionals in Airdrie. They interact with each other, they talk to each other and they work together, and that is just the reflection of the people we have in the space."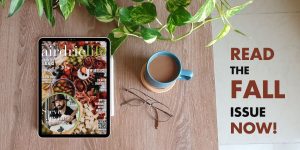 FIRST STEPS
Ready Set Soar! Education Centre has been using The Collective as their primary location for classes since September 2021. The group offers specialized classes and workshops for parents and their young children.
Co-founder Elissa Breakenridge says The Collective is the first step towards one day having their own building.
"For us, this was honestly the only way we were able to start our business," says Breakenridge.
"It is ideal because we aren't committed. This is a great way for a new business to start because you are not signing a lease, taking out a loan and putting yourself in debt. We pay for the space for the time we use it."
Breakenridge adds the interior of the space is very warm and inviting, which helps ease parents and children who take her classes.
"Most of the businesses that run out of The Collective are women owned and women run and are focused on bettering people. It's really cool to be surrounded by like-minded businesses who are trying to better the community."
CONFIDENCE BOOST
Over the past two years, Cameron says he has seen small businesses come and go through his space. He himself has been a resident of Airdrie for the past 15 years, raising his family in the community.
In an effort to help boost the confidence of those who use the space, Cameron and his daughter spent a month brainstorming motivational words. They then plastered the front door in power words to set the tone when you walk in.
"It's a small thing, but for small businesses and everyone else it's just a little reminder that you are doing good. We've had quite a few instructors come and try to develop their small business with us. We've had people start with one class per week and then grow their business from there," Cameron says.
"Our ultimate goal is helping one of these instructors grow their business to a point where they will take over their own space one day. How great is that?"