"I get to be a chef, scientist and artist rolled into one, with the added benefit of a delicious end product"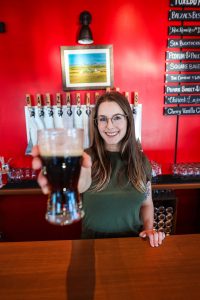 When you think of a brewmaster, chances are you picture a large man in his 30s or 40s with a beard.
That image could not be farther off for the Balzac Craft Brewing Company's head brewer Thecla Wiart.
The energetic and slight 23-year-old says she is used to having people push her aside and ask if they can "speak to the brewer."
"I am very vocal about what I do," she says.
"I don't feel intimidated and I am proud to be a successful woman in a traditionally male-dominated field. It's fun to be different and prove people who don't believe in my potential wrong."
Wiart went on to add that historically, beer was brewed by women at home while men tended to the fields.
"It's only in the past few hundred years that beer is seen as a 'man's industry,'" she says.
Infiltrating the industry
Wiart realized it might be the industry for her when she was working in a winery in Osoyoos, B.C., a few years ago.
"I worked in a taproom and I realized that talking about the aromas and taste profiles in beverages was something I was
really interested in, but I was an Alberta girl through and through and knew I would come back," says the Castor, A.B., native.
A three-and-a-half-month trip through Europe spent engrossed in the pub culture solidified her decision to join Alberta's beer community.
She attended the Olds College Brewmaster and Brewery Operations Management program and convocated in spring of 2019.
Interestingly, Wiart's graduating class had the most women that the program has ever seen with five women going on to work in the industry.
"You are starting to see more and more women brewing beer," says Wiart.
A woman's touch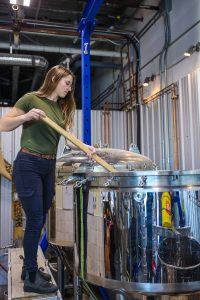 She said one of the most notable ladies in the industry is Calgary's Last Best Brewing and Distillery head brewer and advanced cicerone Natasha Peiskar. Wiart says Peiskar is someone she looks up to professionally.
"She's just so well spoken and knowledgeable and she isn't afraid to create an amazing product," says Wiart.
She explains women have a different palate than men and often make unique styles and flavour profiles that aren't commonly seen on the market.
Wiart says one of the reasons women make good brewmasters is the fact that they are willing to learn and improve.
"I love that it is a very creative process.
"I get to be a chef, scientist and artist rolled into one, with the added benefit of a delicious end product."
The art of beer making
Wiart says although there is a very specific recipe and process you need to follow to make beer, the way the flavours interact together is different from batch to batch, making it an art.
"I love that I get to see the product from start to finish," she says.
"I get to handle the ingredients, brew it, taste it as it ferments and package it. I have hands on it the whole time."
Wiart was hesitant to choose her favourite style of beer out of the eight that Balzac Brewing currently offers.
"I like brewing lagers because they are so clean and taste nice, but IPAs are fun because they have a broader flavour profile," she says.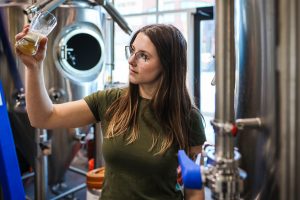 The Balzac Brewing brewhouse is only 800 square feet, so space is at a premium. To offset space constraints, Balzac Brewing uses a Brewha BIAC system, a seven-barrel system that has the capability to mash, boil, ferment and condition.
Wiart says the most challenging part of her job is the incredible attention to detail and meticulous cleaning regime required to ensure the safety and flavour of each batch.
"Essentially, I am just a glorified janitor for the tanks and beer," she jokes.
"The cleaning is what causes me stress at night because you need to make sure the process is perfect, or the beer will tell you."