It's been more than a decade since Chris and Kim Bergman opened the doors of Explosive Edge.
They had dreams of creating a space in Airdrie where athletes of all kinds would walk in and go "woah, this is where I need to be."
Since then, the sports development training complex has had close to 10,000 athletes come through its doors, including Canadian professional ice hockey forward Ty Rattie and goaltender Aaron Dell for off-season training.
"Airdrie has a huge hockey population, and there's a lack of hockey-specific training available to them. So we felt the need to create a kind of a premier hockey development agency," Chris says.
"We also felt the city needed more of a focused approach for youth sports. My wife and I are both elementary-stream teachers, so we can help athletes learn those foundational skills. Teaching sport at such a young age really does need experienced introduction and energy."
Double whammy
Explosive Edge trains athletes as young as two, all the way up to adults. They primarily train hockey, but have programs for baseball, lacrosse, tennis, golf and skating.
Before the COVID-19 pandemic, Chris says, they were expanding so rapidly they were moving into a new facility and opening up a batting cage.
"We were shut down for quite a while. We were in a unique circumstance in which we were not only the fitness sector, but we were also the arena and recreation sector. We were kind of hit with a double whammy," Chris says.
"We had to be fluid with whatever scenario the government put us in. There were times when that building was empty and it was quite a lonely place, [given] it was designed for kids to come and play."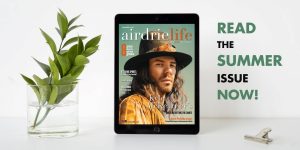 Chris says they adapted by introducing one-on-one training, and changing team programming into development programming because of capacity limitations.
The Bergmans are now looking forward to getting back up and running to pre-pandemic levels, including bringing back tournaments and some shimmy sessions for everyone to enjoy on Fridays.
"We really diversified, and had to think creatively. It was a rough time for us but we pulled through. Seeing how happy the kids were training with us, I think definitely motivated us to keep going," says Chris.
Still going strong
Over the years, Chris says, seeing Explosive Edge give people another dimension to their athleticism has been very rewarding, whether that be watching an athlete become a top scorer, or becoming close friends with those on a team.
"The real foundation of what we do is a commitment in sharing a passion for sport. Encouraging kids to participate, be active and be a part of a team. There's a lot of character that comes with being part of a team," says Chris.
That commitment is why Explosive Edge partnered with Airdrie's Kalix Legacy Foundation. Every year, the Foundation covers anywhere from 50 per cent to 100 per cent of the fees and equipment costs depending on the program or training, the athlete's financial situation and available funds.
"At the end of the day we try to share a mentality with parents that … although every child might not go into the NHL, they deserve the opportunity to be the best that they can," says Chris.
"I have an appreciation for parents allowing us to be a part of their child's development. I think that speaks volumes to the passion we have for sports development in youth. We are still here despite some hiccups; we're going strong, and we're excited to continue seeing new generations come through our doors."