What's Pop'n Pop Shop Airdrie on Main Street specializes in its unique offering of specialty fizzy drinks.
But it truly is the experience that sets this business apart, in the heart of Airdrie, and appeals to a wide variety of customers.
"It's a fun way to drink your pop," says Barb Stanford, who owns the business with her husband Kent.
"The theme behind our shop is very beachy and it's like a vacation in your mouth. You just come in and kind of take yourself away. Pretend you're somewhere else.
"They're so good. We want you to be able to come in and leave your worries at the door. Come in and feel like you're somewhere far away that's nice and lovely and warm and just enjoy yourself."
The Stanfords also have business partners, Rylan and Dana Schaffer, who live in Cardston, Alberta, and operate a similar store there which they opened in 2020.
What's Pop'n Pop Shop Airdrie opened in July 2021.
At the store, customers can take their favourite pop and choose from the pre-made menu of 'mocktails' with different ingredients and cool names such as You Float My Boat which consists of root beer, vanilla and cream. Or Hide Yo' Wife with Dr. Pepper, mango, vanilla and cream.
The store also sells nachos, popcorn, Pop'N Dogs, mini donuts, treats, sugar cookies, ice cream and milkshakes. What's Pop'n Pop Shop Airdrie also has student deals and is on the Healthy Hunger app for schools to order their lunches.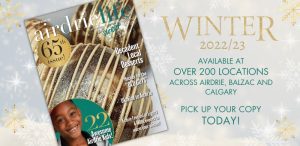 "We got the idea from the U.S. They've got tons of pop shops down there and we loved it," explains Stanford. "We were just trying to figure out a way to bring it up here because we knew it would be a really great fun thing. We want it to be family-friendly and good for every age."
And Stanford says customers do indeed range from babies to elderly.
"It's just so fun to see all the different ages in here. People come in and they're so friendly and so kind and welcoming," she says. "We just love it. We love that our customers are so comfortable with us and will share with us what's going on in their lives.
"They tease and say 'you guys are like Cheers (the television show), we just come in and get our treats and stuff and vent to you' and then they leave. We just love it. We think it's great."