More than 200 community-minded businesspeople came together October 20 at the Bert Church Theatre to celebrate the 24th annual Airdrie Chamber of Commerce 2022 Airdrie Business Awards. A total of 45 finalists were recognized as Airdrie's finest in 10 different categories, during what was truly an evening of celebration and support for the local business community.
"The evening was fabulous!" says Marilyne Aalhus, Executive Director of the Chamber. "The Airdrie Chamber of Commerce would like to congratulate all the finalists and winners and we would like to thank all the sponsors, chamber team, and our many volunteers for making the event possible."
The Business of the Year Award, sponsored by the City of Airdrie Economic Development, is given to a business that has been in business for at least three years, that best exhibits outstanding achievement in innovative practices, customer service, and growth, and actively participates in the community. This year's recipient is Blessingways Family Wellness.
"We are so excited to have won this award!" says Dr. Melanie Beingessner. "We have offered our services to Airdrie's families for the past 15 years, and we'd like to think that our success this year is because of two great reasons: We offer the best chiropractic and massage therapy services possible. We strive for excellence every day and I believe that it shows.
"Second, we serve an amazing community of moms who get what we do and tell others about us.  Our moms bring in their whole families for care.  They send in their friends and coworkers.  They recommend us on the Airdrie Moms Facebook page… and they voted for us. We wouldn't be here without them. This award validates that we actually are touching the lives of the people we serve and that is the most important feedback for us as a group."
The Hugh Hamilton Business Leader Award, sponsored by McKee Homes, is presented to an individual who has been operating a business for at least three years and has demonstrated exceptional leadership, business acumen, philanthropy, and commitment to the Airdrie business community. This year's recipient is Brandy Horn of MNP LLP.
"It is a great honour to be recognized in this category," says Horn.  "Our Airdrie business community is incredible – especially when you see the great organizations and individuals who are nominated every year.  Volunteering in the community has always been important to me.  I have met some amazing people along the way and always had a lot of fun with the groups I have been lucky to be a part of.
"Thank you to the Chamber, the nomination committee and the teams that are a huge part of my life and have always been a huge support – my family, the MNP office team, the clients that I get to work with every day, the Boards and volunteer groups I have worked with and continue to work with. Airdrie is an amazing place to live and work!"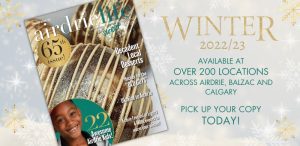 The Community Attraction Award, sponsored by Cam Clark Ford, is presented to a business that has been operating for at least 2 years and has major influence on attracting visitors and residents to engage in the community; making Airdrie a more attractive place to work, live, visit, and play. This year's recipient is Rival Axe Throwing.
The Emerging Business Award, sponsored by JHH Transport, is presented to a business that has been operating for less than 3 years, showing success and demonstrates a connection to the Airdrie community. This year's recipient is Gummi Boutique.
The Employer Excellence Business Award, sponsored by Fortis Alberta, is presented to a business that goes above and beyond for their employees and provides the best overall place to work. The company values their employees' development and retention on the same level that it values productivity and business growth. It places high levels of importance on corporate culture and a happy and healthy work environment for their staff. This year's recipient is Revival Therapeutics and Performance.
The Greatest Impact Award, sponsored by Canon, is presented to a business that has been operating for at least 2 years and has had the largest impact in the community through philanthropy, volunteerism, and overall commitment to making Airdrie a great place to live and do business. This year's recipient is Marr & Company.
The Innovation Award, sponsored by Vitreous Glass, is presented a business that demonstrates exceptional and transformative innovation and leadership in their processes, products, or services. This year's recipient is The Beautiful Tooth Company.
The Legacy Business Award, sponsored by Chambers Plan, is presented to a business that is independently owned and operated, has been in Airdrie for at least 10 years, has shown sustained growth and contributions to local employment. This business has invested in the community and sees community investment as a core part of the company's values. This year's recipient is Petite Saigon.
New this year, was the Spirit of Airdrie Award, sponsored by BMO, is presented to a non-profit that has been operating for at least 2 years and continuously serves and promotes Airdrie via specific programming, resources, assistance, and/or services they offer. The first ever winner of this award is the Thumbs Up Foundation. life