by Josie Randall
Lovepreet Deo's passion for cycling to raise awareness for cerebral palsy is being honoured by the province
It's been years since Lovepreet Deo stepped on a bike as a way to relieve stress from her disability.
On Friday, Deo will be honoured for her accomplishments from cycling with a Premier's Council on the Status of Persons with Disabilities Award of Excellence in the area of Public Awareness.
Diagnosed with cerebral palsy at a young age, Deo was told she would never walk again. She turned her attention to fitness while raising money for those sharing the same diagnosis.
"I know how hard it is. Some families don't have enough resources or money to care for those of us who have cerebral palsy," says Deo.
"I know for a fact there are days when I want to give up but I can't give up. The days that I want to give up are the days where I have to push myself harder for those who have it worse than me."
Each year, the Alberta's Premier's Council on the Status of Persons with Disabilities gives the award to one individual, team or organization that has increased the public's awareness of the benefits and value of barrier-free, inclusive communities.
"Lovepreet Deo has raised awareness through her athletic accomplishments, fundraising … and breaking down the labels and barriers people with cerebral palsy live with," the Premier's Council wrote in a statement.
Dawn Sorsdahl has been training Deo for more than 4 years. She says Deo always has new dreams and goals because she actively seeks them out.
"Lovepreet came to me already motivated, and didn't realize her potential, since she was told that she can't," says Sorsdahl.
"She asked to try something every session and either we tried or we would go towards it."
Over the years Deo has completed a half-marathon and several other races on her bike while raising thousands of dollars for the Cerebral Palsy Association in Alberta.
In 2017, Deo was also recognized for her athleticism and charity work by receiving the Amazing Courage Award at the Amazing Airdrie Women Awards by airdrielife.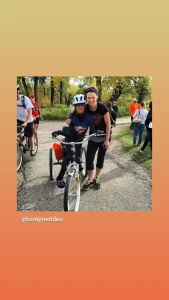 Deo and her trainer, Dawn Sorsdahl, sometimes walk 10,000 steps a day as part of her training. Credit Lovepreet Deo
Earlier this year Deo challenged herself on her 40th birthday by climbing all 167 McHugh Bluff wooden stairs in Calgary.
Deo says she is honoured to be selected out of so many deserving Albertans, but adds she isn't going to let it get in her head.
"You have the choice of sitting and doing nothing at all or getting up and moving," says Deo.
"It's about developing a strong mindset and staying consistent. You need to if you want to accomplish something in this world."
Deo is currently training to ride her bike from Canmore to Banff next spring, and is also looking into climbing The Bow tower in Downtown Calgary.
"Anything is possible if you put your mind to it. If you want to reach a goal you can do it one step at a time."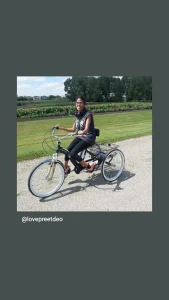 Deo says she found happiness through cycling. Credit: Lovepreet Deo