With one in six Canadian couples experiencing some kind of infertility struggles and miscarriages occurring in about 15 to 20 per cent of pregnancies, chances are you know someone who has dealt with infertility or loss.
It can be hard to know what to say or do to give support to your loved ones who are going through these incredibly difficult times.
Airdrie company Hope Anchors is here to help make that question of "what do I do?" a bit less daunting.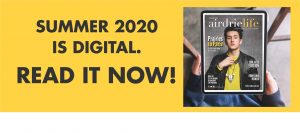 Owner Kayla Meller went through her own infertility struggle for two-and-a-half years, which included five rounds of Intrauterine Insemination (IUI) before having her "miracle baby."
"While we were surrounded by family and friends during that time, it often felt isolating and very lonely," Meller says.
"In talking to those people both during that time and after, we heard again and again that people wanted to help but weren't sure how; people were nervous about what to say or do."
She adds that when people did reach out to her and her husband during that time, it was very meaningful.
"It was things as simple as a text saying they were thinking of us, or a gift card for a date night out, or a gift on Mother's Day to let me know that they hadn't forgotten how hard that day would be for me," she says.
After reflecting on her journey, Meller came up with the idea for the gift boxes as a resource for someone looking to support a loved one living through these difficult experiences – something to say, "You are loved. I have not forgotten about you."
Hope Anchors offers three different gift boxes – two sizes for infertility and loss and one for rainbow babies – that can be customized to best fit the recipient.
The infertility and loss gift boxes include:
original artwork print (three options to choose from)
a journal (large boxes only)
Bloom Body Co. bath soak
a succulent
your choice of Eastern Slopes Roasting Co. coffee or Tearrific Tea
a card
The rainbow baby gift boxes include:
original artwork print (two options to choose from)
onesie by Vegas Vinyl
"Wish" by Matthew Cordell
a bag of Skittles
a card
"I know many people struggle to know how to reach out during those times," says Meller.
"A Hope Anchors gift box is a simple way to show your loved one that you are thinking of them."
She said it can feel intimidating or awkward to reach out to someone when they're struggling with infertility or loss, but it can mean so much to them.
"I also think people often hesitate because they don't want to remind the person of their loss or their struggle," she adds.
"The truth is, it is already on their mind; they have not forgotten. You acknowledging their grief does not remind them of something that they have forgotten, instead it helps them know that they are not grieving or struggling alone. My goal in Hope Anchors is to make reaching out a little bit easier."
For more information, click here  or visit the Hope Anchors' Facebook or Instagram pages.
stacie@frogmediainc.ca