A 2020 George McDougall High School graduate recently received second place in the Calgary Stampede Grade 12 Western Art Scholarship competition.
Bethany Scott, 17, received the $1,000 award for her chalk pastel piece called "Private Time," which depicts her sister's banjo propped against an outhouse on family's farm.
"I wanted to redefine what people traditionally see as a Western symbol," she says.
"I originally had your typical Western scene with a horse and person in mind but my teacher, Ms. Wright, who recommended that I submit to the competition, suggested I work to my strengths, which is still life."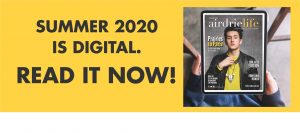 She adds that she has been interested in art since she was about six years old and a friend of hers described her style as "taking an item or object and making it appear softer or more welcoming than it actually is."
Scott's mom Michele says she was "over the moon" when she found out her daughter had won second place in the competition, but adds she always knew her daughter would go far with her love of art.
"At a very young age, we identified her passion for art," she says.
"She was in art classes at the age of eight and they were her favourite part of the week, but it didn't always come naturally to her. She had to work at the skills to get where she is, and the hard work has paid off."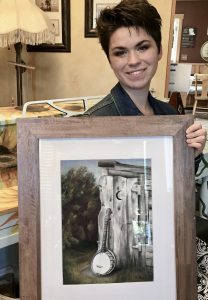 The Grade 12 Western Art Scholarship has been awarding scholarships to students in Calgary and surrounding area for more than 36 years, with over 100 scholarships being presented. The Grade 12 Western Art Scholarship committee continues to judge and award scholarships to promising young artists completing Grade 12 to contribute to the post-secondary education program of their choice.
The pieces are usually displayed at the Calgary Stampede and sold there with part of the proceeds going to the artist, but due to the COVID-19 pandemic, this year's Greatest Outdoor Show on Earth has been cancelled.
Michele said she spoke to the director of the art scholarship who hopes to somehow incorporate the winners of the 2020 scholarship into the 2021 Stampede.
In the meantime, Scott plans to create prints and cards of "Private Time" and sell them to raise funds for a Mission trip. She hopes to have the artwork for sale by early August and can be contacted at gr8bscott@shaw.ca if you are interested in purchasing one.
For more information on the Western Art Scholarship, click here.
stacie@frogmediainc.ca