Local artist Luke Carruthers didn't expect to gain world-wide attention with a passion project he took on after the passing of a Canadian rock legend.
Carruthers has become known as far away as Australia for his eight-foot by five-foot portrait of Tragically Hip lead man Gord Downie that is made out of 11,360 pennies.
The project took Carruthers about three years to complete as he made it in his garage and only worked on it during the warmer months.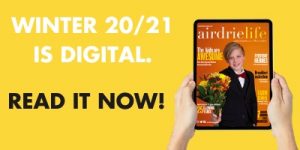 He originally started collecting the pennies to create a floor in his basement but after researching penny projects, stumbled across a portrait of Lincoln.
"I thought, hey I could do that," Carruthers says.
"It was after Gord died that I decided I could maybe do a tribute piece with all these Canadian pennies that I had."
The pennies came from years of collecting them himself as well as donations from friends and family. He also bought some from a donation box at his work.
The design process was a painstaking one that involved hours of work sketching out the image, manipulating it in Photoshop and changing the colouring of the coins with a substance called liver of sulfur (to darken them) and polish to make them shine.
"The process was a bit of a rollercoaster," says Carruthers.
"There was a steep learning curve in dealing with chemicals, adhesives, the slight variances in sizes of the pennies, and the various tones and sheens."
He says finishing the project was bittersweet as it was both exciting and sad to see it complete.
The unusual piece is definitely getting attention. Carruthers has had reaction form the artwork from around the world.
"People are drawn to it initially because of Gord and the Hip," he says.
"They're such great artists and have had an immense cultural impact on Canadians for so many decades now. Gord's death hung heavy over our nation. I think what makes my piece unique, and there is a lot of great art out there by Hip fans, is the size of the piece and the use of pennies over traditional mediums. There's something kind of whimsical about it."
Carruthers has lived in Airdrie for about 10 years and has been an artist all of his life. He has tested the waters in a wide variety of mediums including acrylic on canvas, guache (a method of painting using opaque pigments ground in water and thickened with a glue-like substance) on artboard, pen, ink, pencil and air brush.
He has also carved soapstone and of course his work with pennies.
The artist has also published illustrated books digitally, and worked in video and animation.
"Every medium has its own charm," says Carruthers.
"I like working with acrylics on large format painting, but pen and ink or pencil are great for detailed illustrative work. Airbrush is incredibly versatile and lets me work on objects that don't normally lend themselves to receiving custom artwork."
He is currently working with a large Canadian organization on a couple of commission pieces to be done in pennies over the next year as well as a Van Halen tribute, and a series of illustrations of 80's metal bands that he's planning to sell at music festivals in the future.
For more information on Carruthers, click here.
stacie@frogmediainc.ca