Jo-Ann Miller creates hand-crafted and unique gifts that "make you stay and visit."
When she couldn't find a charcuterie board the size she wanted for a party she was hosting, she decided to make one herself.
"I've always liked to build things and I thought, 'It can't be too hard to make it,' so I did," she says.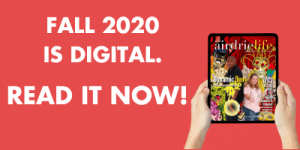 She started out making boards for friends and family in her garage and then created her own workshop on her acreage near Airdrie.
"When you bring out the charcuterie board, you just know that everyone is going to sit around with a glass of wine in their hands and pick and chat," she says.
"It forces friends and family to sit down for a visit. It's a personalized gift that brings people together."
Miller creates custom charcuterie boards out of four different kinds of wood including maple, hickory, cherry and black walnut.
"The most popular is black walnut by far," Miller says.
"There is so much variation to the wood and it looks fantastic once it is conditioned."
Miller adds that her favourite part of the process is applying the oil near the end.
"When you put that oil on, it comes to life," she says.
"It's amazing! It's just like, 'Wow!'"
Most of the boards she makes are 20 to 24 inches long and the width varies depending on the wood. Her most popular boards have a natural bark edge, and all are completely food safe.
"I use a medical grade mineral oil and make my own conditioner," she says.
Miller also taught herself to burn and Dremel designs into the boards
"I can create any design and have made logos for companies, brands, hearts, waves, a sun, boats, deer and lettering including names, quotes and sayings."
She says the most challenging design she has done includes a rider on a horse turning a cow (see photo above).
Recently she has started adding coloured epoxy to the boards to add a bit of pizzazz.
"As I see how more and more of my boards are turning out, I just keep thinking up ways to enhance them," says Miller.
"Working with wood is a mental break for me. It is soothing and I just get in my zone."
Her work has paid off with people from as far away as Toronto ordering boards from her.
"These are incredibly unique gifts that you can't find in any store," Miller says.
"They are amazing gifts that can be personalized exactly to the person's interest and they will last a lifetime if you care for them."
She adds she has had people order boards for weddings, birthdays, anniversaries, housewarmings, Christmas and many more special occasions.
Miller sells her boards via social media. Check out her Facebook and Instagram pages for more information.
stacie@frogmediainc.ca