Community developer Genesis Land held a small but symbolic school's out event at Chinook Winds Regional Park for some residents of the Bayview and Bayside communities on June 26.
The event that followed social distancing practices, was created to celebrate the end of a tough school year and the start of summer.
Prior to the event, children from 64 families found kites that had been delivered to their doorsteps, along with $25 gift cards to be spent at local businesses.
"This is our way of giving back to our communities and recognizing the hardship the global pandemic has had on everyone," says Arnie Stefaniuk, VP of land development for Genesis.
"It's a small but heartwarming gesture meant to surprise and delight after a long winter. At the same time, the gift cards encourage local residents to spend at local businesses, thereby stimulating the economy in our communities."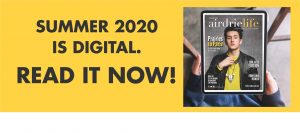 In keeping with provincial restrictions on public gatherings, only 50 people attended the kite-flying event in person, on a first-come first-serve basis, while others watched the flying kites from their doorsteps.
The event also included DJ music and drones, along with gift giveaways to support local businesses and families.
In total, Genesis gave away 100 kites and gift cards to families throughout its five southern Alberta communities.
The remaining gifts were delivered to residents in Genesis Land's Calgary communities of Saddlestone, Sage Meadows and The Ridge at Sage Meadows.
About Genesis
Calgary-based Genesis Land is an award-winning land developer and home builder, creating new communities in southern Alberta. One of the company's fundamental values is giving back to the communities it has been building for 30 years, believing that great communities begin with great people. Genesis's sponsorship and advocacy programs support organizations, causes and people who make a difference in their neighbourhoods.
For more information on Genesis Land, click here.
To read about the unique ways Airdrie's high schools celebrated their graduation, look for our Gradlife digital magazine to be released in July.
stacie@frogmediainc.ca