Although we may not want to think about the fact that it will soon be so chilly we will be relegated inside, the beautiful colours of fall are upon us.
Making sure those lovely leaves are cascading onto a weather-prepped lawn will save you a lot of work next Spring and can result in more blooms, veggies and greener grass when the warm weather returns.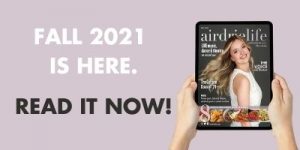 These seven simple steps will give your yard the TLC it needs before it's covered in snow.
Water your lawn
It can be easy to forget about watering your lawn once the warmth has gone away, but it still needs moisture to recover from the summer heat and prepare for the cold weather ahead. Watering is also a crucial part of the fertilizing process to ensure that the product you put on your grass can soak into the soil and do its job.
Fertilize the grass
It's important to get your fertilizer down before your grass starts to change from green to brown. Many people forego fertilizing, thinking it doesn't make much difference but the food stores in the roots and allow the grass to survive the winter.
You may also choose to use some herbicide to prevent weed seeds from spreading, reducing the number of nuisance plants you see next spring.
Clean your gutter spouts
Possibly one of the most important chores in terms of avoiding damage to your roof and home is clearing your gutters of any debris. There are a number of gadgets on the market to help with this, but nothing beats getting up on a ladder with a pair of gloves and cleaning them out with your own hands to ensure they are completely clear.
Aerate
Whether you do it yourself or hire a company to do it for you, it is best to aerate at least four weeks before the deep cold sets in. Aerating helps loosen compacted soil and allows air and water to reach the roots. Spread your fall fertilizer shortly after aerating to fuel recovery growth.
Lower the mower
You want to cut the grass as short as one inch for the last mow before the snow starts to fly to cut down on the chance of snow mould. Long grass can also lay down with the weight of snow, smothering the new grass that would have grown next spring.
Clear your garden
After you have harvested your fruits and veggies or seen the last bloom on your flowers, make sure you go through and pull out any dead leaves or debris that may have been left behind. These can cause mold and mildew as they trap moisture.
Drain your hoses
This is something you may not think about but draining and detaching your outdoor hoses can help to preserve their life and prevent you from having to buy new each year. You can choose to blast them out with an air compressor or simply leave them out on a sloped lawn to fully drain and then there is no need to waste money on a new one each spring.
We all think of working in the yard every Spring but don't often realize there is work to be done in the Fall as well. Do yourself and your yard a favour and put in the work now so you can get to enjoying your outdoor oasis earlier next year.
stacie@frogmediainc.ca