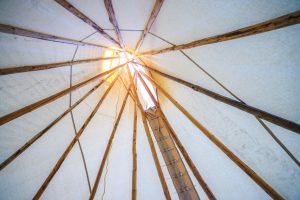 September 30 – October 1 will be days of healing in Airdrie as two separate events bring Airdronians together for a time of reconciliation, a celebration of culture and the promise of a brighter future for all.
On Friday, September 30, residents of Airdrie and area have the opportunity to experience Indigenous culture in a meaningful way, including an Elder-led healing ceremony, as part of Canada's National Day for Truth and Reconciliation.
Elders and Knowledge Keepers from Stoney Nakoda, Kainai and Tsuut'ina First Nations and the Métis Nation of Alberta Region 3 will be at Nose Creek Park between 10 a.m. and 4 p.m. to raise a tipi and trapper's tent, light a sacred fire, conduct a sacred pipe ceremony, share prayers, teachings, stories, songs and music in an event that brings the community together in reconciliation and honours survivors, their families, and their culture.
This family-friendly public event is made possible through a collaboration of Elders, Knowledge Keepers, the Circle Connections for Reconciliation Society and the City of Airdrie.
Circle Connections for Reconciliation Society is a grassroots community-driven initiative organized by a team of dedicated volunteers bringing Indigenous and non-Indigenous people together.
"We are doing what we can to bring Indigenous and non-Indigenous people together in peace and friendship," says Sue Methuen, one of the co-chairs of Circle Connections for Reconciliation Society. "To learn the truth of our past history and increase awareness and work towards genuine reconciliation in our area. We have created a page on Facebook and on LinkedIn as a way to share information. We also have a Facebook group called Circle Conversations where people can post, share, learn and connect. Our website has many resources for self learning as well as events to bring people together."
While the day is about celebrating Indigenous culture, it also honours both the children who never returned home as well as the thousands of survivors of residential schools, their families and communities. This public commemoration of the tragic history and ongoing intergenerational impacts of residential schools is a vital component of the reconciliation process and why everyone is encouraged to wear orange on September 30 to promote the concept of 'Every Child Matters'.
SCHEDULE
10 – 11 a.m. Opening Prayers and Land Acknowledgement Sacred Fire, Tipi Raising with Teachings
11 a.m. – 12 p.m. Trapper's Tent Raising with Teachings
12 – 12:30 p.m. Pipe Ceremony
12:30 – 3 p.m. Elder teachings, stories, songs, music, round dance, bannock and tea (while supplies last)
3 – 4 p.m. Lowering of Tipi and Trapper's Tent with Teachings
4 p.m. Closing Prayers
All Airdrie area residents are encouraged to put on their orange shirt, grab their lawnchair or a blanket, dress for the weather, and come help raise the tipi and trapper's tent, listen to the Elder's teachings, enjoy a cup of tea and a taste of bannock made over an open fire and maybe even join in a round dance.
For more on Indigenous people in Airdrie and the Circle Connections for Reconciliation Society, check out our Fall 2021 issue at https://airdrielife.com/contact/back-issues/.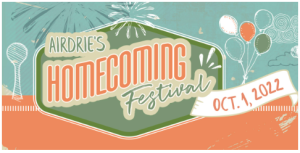 The healing process continues Saturday, October 1 as the City of Airdrie is putting on a one-day Homecoming Festival to bring the community back together, support mental wellness and thank essential services, first responders, and local businesses for their resolve over the past couple of years.
The family-friendly, tailgating event will include motivational wellness presentations, children and youth activities, food trucks, fireworks, and a drive-in movie! An evening concert at Ed Eggerer Athletic Park with Canadian music artists, Scarlett Butler, The Blake Reid Band, Lisa Brokop, Julian Austin, and Kyle McKearney will be an exciting highlight to the day.
"The last two and half years have been tough, both economically and mentally, for our residents, businesses, essential workers, and first responders," says Mayor Peter Brown. "I'm excited about what the Homecoming Festival represents; being on the other side of the pandemic. The Festival is an opportunity to thank people for their hard work, connect them with the resources they may need, and a chance for us to get back together in-person as a community."
It's no coincidence the event is being held in conjunction with the start of Mental Health Week in Canada, and one of the key presenters during the day will be Karen Judge, founder of A Dose of Happiness and author of the self-help book Drive Your Happiness. Judge's company offers a variety of educational and creative experiences connected to proactive mind health and the science of happiness for individuals or groups and she'll share some of her knowledge in a couple of different sessions.
The one-time event is being held thanks in large part to $75,000 from the federal government's Commemorate Canada grant program, for communities across the country, in response to the pandemic. The Commemorate Canada grants are intended to increase opportunities for Canadians to celebrate the Country's emergence from the COVID-19 pandemic, while building a sense of pride and belonging. Communities receiving the grants are also asked to use the opportunity to recognize people and achievements in the response to COVID-19, and support the revival of local economies through safe, in-person events.
"The Homecoming Festival will be a great opportunity for Airdrie residents to come together, to celebrate how far we have come, and to thank the many people in our community who have helped us through the pandemic," said Kristen Shima, community developer with the City of Airdrie. "We're excited to be hosting a full day of music and activities and we know there will be something for everyone."
SCHEDULE
Kick-off Pep Rally
Ed Eggerer Athletic Park Football Field
Pep rally featuring a cheer squad and marching band!
12 p.m. Welcome and opening speeches, cheer squad and marching bn
12:20 – 12:30 p.m. Hear from motivational speaker, Karen Judge on A Dose of Happiness
Homecoming Tailgate Party
Ed Eggerer Athletic Park Parking Lots
12 – 4 p.m. Wellness Fair
Take a moment to learn about wellness services available in our community.
12 – 8 p.m. Tailgate Activities
Food Trucks
Family-friendly games
Wellness Speaker
Bert Church Theatre 
1 – 2 p.m. Join motivational speaker Karen Judge on a journey towards a happy life.
Kids Zone
Ed Eggerer Athletic Park
12 – 6 p.m. Suitable for all ages, the kids zone features inflatables, face painting, train rides, crafts, a petting zoo, music and more
Teen Zone
East Lake Park
12 – 7 p.m.
Race your friends in an inflatable obstacle course, challenge them to a game of bubble ball, or lock yourselves in to a mobile escape room. Take part in collaborative art installation led by artist Kevin, summon your inner actor with the Nose Creek Players, or work on your stickhandling skills at the hockey rink – all while taking in music from the live DJ (12 – 4 p.m.).
Music on the Main Stage
Ed Eggerer Athletic Park Football Field
2 p.m. – DJ Set
2:30 p.m. – Scarlett Butler
3:30 p.m. – Brandon Lorenzo
4:30 p.m. – Blake Reid Band
5:30 p.m. – Lisa Brokop
6:30 p.m. – Julian Austin
7:30 p.m. – Kyle McKearney
8:30 p.m. – Fireworks Show
Bring a blanket or lawn chairs. Bleacher seating is also available.
Drive-in Movie Double Header
Canadian Tire Parking Lot
Pack up some snacks and experience the fun and nostalgia of an old-fashioned drive-in movie.
7:30 p.m. – Hook
10:15 p.m. – Ghost Ship
For more details about the festival and the schedule of events visit www.airdrie.ca/homecoming.