Organizers of the Food For Thought Cultural Festival hope that the culinary and music event in Nose Creek Park provides a positive outdoor experience that allows Airdrie to celebrate being alive and well.
"(We want the festival) to excite the people to get out and be together and enjoy some music, food and drink," says David R. Burns, director of the experience for the festival.
"(It is a) celebration of innovative arts, appetizers, ales and acoustic performances to tickle your fancy."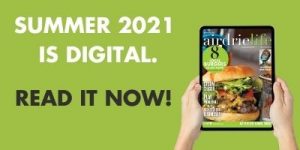 The event is set to take place at the park on July 9 from 3 pm to 8 pm and July 10 from 11 am to 8 pm. It will include treats from food trucks, drinks from breweries, performances by local musicians, sports demonstrations, fitness presentations, appearances by local artists and more.
According to organizers, the free event includes five components: a beer garden, food corral, concession, stage entertainment, and community artists.
"The interest by people in Airdrie, Calgary, and surrounding communities has been overwhelming to-date," says Burns.
"People are excited to enjoy being together and feel good about life here in Airdrie. They smile when we tell them it's free and outdoors."
Burns says Nose Creek Regional Park was chosen for its designed landscape embedded into natural surroundings and connected to the communities.
"The stage/amphitheater nestled on the lake is a beautiful backdrop for a day in the park," he adds.
He hopes to see about 3,000 to 5,000 residents and visitors at the event.
Vern Raincock is an Airdrie resident and the founder of the festival whose background is in hospitality. He encourages residents to "have a picnic and support local artists. Check out what is cooking in Airdrie and see innovations that spark your inner child."
Organizers are also looking for volunteers for the event.
"We need around 75 able and positive volunteers to cover the 15 hours of programming," says Burns.
"Tasks include greeting people, cleaning, assembling, serving, and general help."
For more information on the Food for Thought Cultural Festival, click here.
If you are interested in volunteering at the event, click here.
stacie@frogmediainc.ca