We've all wondered it from time to time: What's happening in Airdrie today?
Two local artists have decided to answer that question by creating what they are calling "pop-up family friendly entertainment."
Airdrie Happynings was created by award-winning playwright and actor Kim Cheel and theatre set designer and puppeteer Katya Petukhova.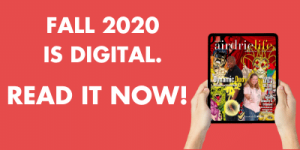 "We're both believers in creating art wherever we can, and however we can and making it accessible to children as well as adults," says Cheel.
"We also noticed there wasn't a lot of activities going on in Airdrie this summer/fall and wanted to fill some gaps."
The two formed the social media initiative on July 1 and held their first event on July 4 – a mini dance party and photo booth at Nose Creek Park.
"This is to make our life, and others lives, happier and less stressful," said Petukhova.
"It's a combination of our skills and it's accessible to people – you don't have to sign up two months in advance – you can just show up and it happens."
Throughout the summer, they held "Puppet Portraits" at Jensen Park, Petukhova created a live plein air painting at Nose Creek Park, and held a Bubblemania event at Midtown Park that included coloured bubbles for the kids to play and paint with.
"It's a way for people to come to get some positive vibes," said Petukhova.
"Try something you might not have. Life is short, don't miss the opportunity to try something new. Support the arts in Airdrie."
Cheel and Petukhova are currently working with Loving Hands Partners in Care to create a mixed media puppet show that focus on capabilities, rather than disabilities.
"We've had really good social media growth and we're especially excited about our smaller pop-ups such as going to community parks to engage with people," says Petukhova.
"We find those events have higher participation than with our large park events."
Petukhova is a master crafter, who hand-crafts all of the puppets used in the shows. She has won multiple awards for her fine art and set design in Europe and Russia. She is a professional fine artist and teaches art to children and adults – both in person and online.
For more information on Petukhova, read our feature on page 12 of our Fall arts edition by clicking here.
Cheel received her degree in drama in 2007 and moved to Airdrie in 2012 where she has performed multiple times. She created improv group The Airheads, and also performs under Kim Cheel Creations. She has taught theatre to youth at Bert Church Theatre, Atlas Learning Academy and at Torchlight Theatre.
Airdrie Happynings will be taking part in ARTember this year with events happening from Sept. 18 to 22. For more information on these events, visit their Instagram and Facebook pages.
stacie@frogmediainc.ca