Staff at Airdrie Community Links have made the difficult decision to cancel this year's Legacy Run to End Family Violence due to the COVID-19 pandemic.
Organizers originally rescheduled the run from April until September, but recently realized they would have to cancel it altogether because restrictions in place to prevent the spread of coronavirus are too strict to allow for an event of this kind.
"2020 would have marked the fifth edition of the Legacy Run to End Family Violence, which raises critical funds that enable Airdrie Community Links to provide our impactful services to members of the community affected by family violence," said Laurie Jacob-Toews, community engagement manager at Community Links.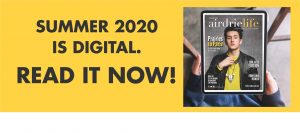 Every day in Airdrie and area, family violence hurts families, she adds.
"The lives of women, children, and men are thrown into cycles of pain, fear, and uncertainty," she says.
"The additional stress and uncertainty caused by the pandemic has added increased challenges to families who were already struggling."
The event, which hundreds of community members have taken part in, is Airdrie's only Half Marathon and also includes five-kilometre and 10-kilometre courses.
The five-kilometre course honours the memory of Andrea Conroy, who died tragically as a result of family violence in 2012.
"Over the years, the event has helped to bring attention to family violence in our community and awareness of the supports available to those who are impacted," says Jacob-Toews.
"We continued to be optimistic that we could proceed with the run on the re-scheduled date in the fall. However, due to the continued challenges we are all facing due to COVID-19, we feel that cancelling the event is the right decision."
She adds that the event is more than just a run to Community Links and organizers plan to offer the event again, when they can ensure it will be the quality run they are proud to have created over the past four years.
"To our sponsors, who stuck with us as we postponed the event and hoped for the best, thank you," she says.
"We know that this has been a challenging year for you as well, and we appreciate your support of the event."
The event has been rescheduled for Sunday, April 18, 2021.
"Thank you for your understanding and we look forward to seeing everyone in April 2021," says Jacob-Toews.
For more information, call Airdrie Community Links at 403-945-3900 or click here.