The City of Airdrie recently released tentative re-opening dates and hours for Genesis Place Recreation Centre in response to the Provincial Government's Relaunch Strategy moving into Stage 2.
Tentative reopening dates:
July 6 – Fitness Centre
July 13 – Aquatics/Gymnasium/Field House & GP Arenas
Hours of operation:
Monday to Friday – 5:30 a.m. to 8 p.m.
Saturday to Sunday – 7 a.m. to 8 p.m.
Tuesdays from 5:30 a.m. to 9 a.m. will be reserved for individuals 60 years old and older and individuals with health concerns.
"The dates for the return of permitted programming (swim lessons etc.) has not yet been confirmed as we explore scenarios to resume these services within Alberta Health Services (AHS) guidelines," according to the Genesis Place Recreation Centre Facebook page.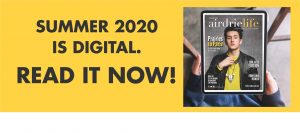 According to the City's web page, staff is currently recalling and training employees on new health and safety protocol. Facility users can expect changes to the staff's physical spaces as well as amenity specific procedures for both employees and guests to follow.
Staff is also reviewing what areas and services are able to operate safely during Alberta's second stage of relaunch.
"We are committed to providing timely updates on both our official reopening dates and our risk mitigation strategies to keep our facility users and employees safe," says the web page.
"We miss you and we're excited to welcome you back safely in the coming weeks."
Staff is connecting with pass holders individually to discuss adjusted pass options moving forward as well as putting into place new protocols and barriers to ensure compliance with AHS guidelines. The Genesis Place customer service team will be connecting with all pass holders and presenting options to reactivate, continue to suspend, or cancel facility passes.
Credits for programming or classes cut short when the facility closed in mid-March have been put on pass holders' facility accounts. They can either be put towards future registrations or be refunded by request.
For more details on timelines, safety protocol and more, click here.
stacie@frogmediainc.ca