It's not every day that you are walking down the street and run into Superman and Batman.
However, for the next little while, if you walk past the Chinook Winds Firehall, that's exactly what will happen.
Local Artist Amanda Tozser recently worked with a number of community members and the staff at the firehall to create a mural that depicts the two superheroes thanking essential workers for their services.
"We thought it would be great to do something to thank all of our essential workers, but also something Airdrie residents can see and interact with," said Tozser.
"We wanted to do this so families and especially kids can have something fun to see but also a creative way to thank all the hard workers. The action 'POW' boxes have names in them of firefighters, RCMP officers, nurses, doctors, City workers and others. The last couple months have been very hard for so many… and we wanted to do something fun."
The mural is about eight-feet by 10-feet and is made with a water-based non-toxic acrylic  paint mixed with distilled water and a bit of dish soap, making it easy to power wash off, longer lasting than chalk.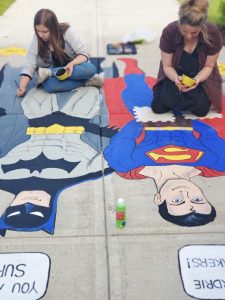 Staff at the firehall have invited residents to come down and add to the mural with chalk. They are encouraged to draw their own 'POW' boxes and add the names of their local heroes.
Tozser usually runs a booth for makeup and face painting at the Alberta Comic Expo. However, due to the COVID-19 pandemic, the event was cancelled this year.
"Superheroes are loved by so many, especially kids, so I wanted to have two popular heroes thanking Airdrie workers," she said.
"In the call out boxes I had them thanking Airdrie essential workers and telling them they are the true superheroes, because they are to us."
stacie@frogmediainc.ca