Airdrie Music Lessons (AML) is set to host their first-ever Stranger Things Fundraiser for the Airdrie Food Bank on Sunday, May 7th, 2023, at AML's main hall located at 204, 1st Avenue NE in Airdrie.
The event starts with a dinner and then moves into a dance-filled evening, with music provided by multiple '80s cover bands made up of AML students.
The doors open at 5 p.m., with dinner to be served at 6, and the dancing beginning at 7.
Raising money for the food bank is a personal goal for the students and staff at AML, who have been planning and working on this event since September 2022.
"We created this event to raise funds and awareness for the Airdrie Food Bank," says Anthony Burbidge, founder and owner of AML.  "In 2023, food security is an important issue. Here in our local community, there is a greater need than ever for food support. Our vision is to raise $4,000 for the Food Bank to get food to families who are struggling."
AML regularly donates to local organizations several times a year to give back to the community, but this will be the first time they have staged a charity-focused event of this size.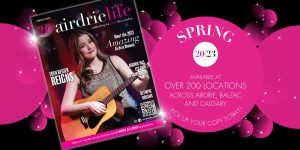 "At our recent mid-year student concert weekend, we raised $1,000 and collected 1,500 pounds of non-perishables for the food bank. We hope to take it to the next level at the May 7 event."
While most of the evening will be donated by AML, Paul's Pizza will be donating the dinner for the guests. Like AML, Paul's Pizza shares the belief that the food bank is a cause that needs attention.
"With inflation being at a record high, there are many residents that are relying on the food bank. We, as a family, believe in helping the less fortunate and donating locally on a regular basis. This community has supported us tremendously and this is our way of expressing our gratitude," says Hamdi Elsaghir of Paul's Pizza.
Airdrie Music Lessons was created in 2010 by Burbidge and currently has more than 500 students ranging from age three and up. AML offers both private and group lessons for their students, including singing, piano, acoustic guitar, electric guitar, electric bass, ukulele, drums, rock band, junior music explorers, fine arts, and dance.
Tickets are $40, with all proceeds going to the Airdrie Food Bank, and can be purchased from Airdrie Music Lessons.
To purchase tickets or more information, visit airdriemusiclessons.com