More than ever, people are looking to purchase fresh produce that they know is sustainably grown, healthy and pesticide-free.
Airdrie Farmer's Market vendor Shirley's Greenhouse offers all of that and more.
Dawn Buschert is the owner/operator of the second-generation producer that originated west of Airdrie, just north of the rodeo grounds.
"I have Airdrie roots that run deep," Buschert jokes.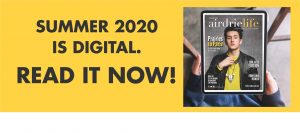 Thirteen years ago, her parents sold the farm and the 36,000-square-foot hydroponic greenhouse is now located east of Didsbury. They grow two different types of cucumbers, eight types of tomatoes, hot peppers, bell peppers, butter lettuce, and kale. They also grow 20 acres of field vegetables.
"Our vegetables are high quality, they have higher nutrients than what you get at the grocery store because they are fresher," says Buschert.
"I want my customers to get the best possible product. If you are not happy, I'm not happy."
She added that she no longer sells produce after it has been around for a week, but it does not go to waste as she donates to many local shelters.
The Process
The plants are grown in rockwool cubes that are placed into cocoa fiber bag. Each rockwool cube is fitted with a dripper where it is fed nutrients and water through the irrigation system. The fertilizer they use is elemental and is measured out to the gram for all the trace nutrients such as: copper, iron, zinc, and Epsom salt.
Shirley's Greenhouse also grows all of their vegetables without the use of synthetic pesticides.
"I wanted my kids to be able to walk into our greenhouse and eat right off the plant," says Buschert.
They do this by following an approach known as Integrated Pest Management (IPM) or using what are called "beneficial insects" or good bugs to eat the bad bugs.
They also use certified organic products to help control other pest issues in their greenhouse crops.
According to Buschert, they use good bugs as a first response and certified organic products as a last resort.
Buschert has about 12 staff who help her on the farm and she sells her produce at farmer's markets between Red Deer and south Calgary as well as on her website.
She says she had the capability for online sales before the pandemic, but demand skyrocketed when local grocery stores started to have supply and demand problems.
"When COVID hit, I was so nervous because we had already planted and I couldn't tell my plants, 'Don't produce!'" she says.
"We were worried when farmer's markets were thinking about shutting down, but we started to see online sales and then it went from a trickle to a flood. I think it shows the fragility of the global system that we use versus a local one."
For more information on Shirley's Greenhouse, click here.
stacie@frogmediainc.ca