With spring finally here, the BMX season will soon be upon us and there's big news for Airdrie BMXers and fans of the extreme sport as the Alberta BMX Provincials are coming to Fletcher Park in Airdrie on August 12 and 13.
This year's event will see 500-600 riders competing in a variety of categories, says Danielle Diaz, marketing director for Airdrie BMX, plus will play host to food trucks, vendors, and raffle draws for the hundreds of spectators anticipated to attend,
"Airdrie BMX divides racers by age groups, boys and girls, and skill level. So, whether you're an expert or brand new, you'll be competing against similar riders," says Diaz.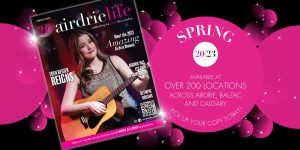 To qualify, racers must complete four of the eight racing events throughout the 2023 season before the Provincials. These qualifying races take place on weekends, in June through September, throughout the province, from Stoney Plain to Medicine Hat.
Airdrie has been home to a BMX track since before its inaugural season at Fletcher Park in 1986 and has members of all ages and skill levels, with a community of about 100 riders per year who call this track home, according to Diaz.
"BMX is more than a sport, it's a family. It's not uncommon for a competitor to give bike parts to another rider so that they can make their race," says Scott Haggarty, age 52, Airdrie BMX's oldest rider. "When the gates drop the race is on, and as soon as you cross the finish line you are congratulating each other on the race."
Damon Webb, age 5, is Airdrie BMX's youngest member who loves being a part of the BMX community says that he loves BMX because he loves having fun, making friends, and riding his bike on the open track.
"I love to race other kids and go fast. I love to get first in a race [but] it's okay to lose because someone else gets to win and I just try harder next time."
All that is required for BMX riders are wearing a helmet, gloves, a long sleeve shirt, pants, and of course, a BMX bike. While other protective gear is recommended, it's not a requirement.
Airdrie BMX hosts one practice per week for each skill level, hosted by one of two coaches. They also host weekly camps where riders can practice their skills and learn from more experienced BMXers, such as Head Coach and local BMXer, Kaileb Dowson.
Advance registration in this year's Provincials, assuming you have met the four-race event requirement, is $35 for the challenge class, $40 for the devo, masters, and junior classes, and $45 for the elite and U23 classes. On-site registration is also available.  For spectators, admission to the event is free.
As for the favourites to win this year, according to Diaz, every rider that lines up at the start gate has as good chance as anyone to win – which makes watching almost as exciting as riding.
For more information visit airdriebmx.ca
Ahman Panjwani is a SAIT Journalism student completing his practicum with airdrielife.