With measures still in place to keep residents safe during the COVID-19 pandemic, the City has decided to postpone its annual airdrieFEST celebration until further notice.
According to a City press release, the health and safety of the community remains the City's top priority and Alberta Health Services has advised against holding a festival-style event at this time.
"airdrieFEST is a great celebration of our vibrant community and I am saddened that we have to postpone this important event. However, the health and safety of our residents remains our top priority," says Mayor Peter Brown.
"I am hopeful that we are able to come up with a solution for the future that allows us to celebrate Airdrie and keep this tradition going, while also ensuring we keep our community safe."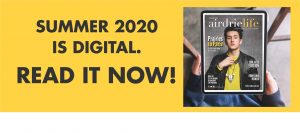 airdrieFEST is an afternoon street festival that showcases many different businesses and non-profit organizations in the city. It takes place every year in September, just outside of City Hall.
The event has been running for 11 years and features family entertainment from local groups such as baton demonstrations and bands, as well as a family fun area featuring children's activities like a petting zoo. Food trucks are also on-site during the event.
In recent years, vendor registration has reached around 200 booths and in 2019, the City estimates that about 7,000 people attended the event.
According to the release, community partners who are essential in making airdrieFEST happen, such as the library and Chamber of Commerce, are also limited by their own COVID-19 responses.
As a result, the City's Community Development department will continue to collaborate with community partners to seek different opportunities for airdrieFEST in the future.
As the pandemic continues to evolve and shift directions, the City will closely monitor the situation and provide updates in a timely manner.
Click here for more info or follow @airdrieFEST on social media.
stacie@frogmediainc.ca