The Airdrie Chamber of Commerce (ACC) recently joined with more than a dozen local business owners to send a message to the Alberta government.
That message being: "it is time to allow local businesses to reopen safely."
On Feb. 2, the ACC sent a YouTube video to Premier Jason Kenney, MLA Angel Pitt, MLA Peter Guthrie, and the Government of Alberta COVID-19 Task Force in an attempt to "show the faces of local businesses who are directly affected by the current government of Alberta COVID-19 restrictions."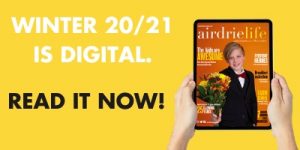 "The people in the video are your friends and neighbours, and they are an integral part of our community," says Marilyne Aalhus, executive director of the ACC.
"They have supported Airdrie for decades and we need to support them when they reopen, and we need to support the small businesses that are currently open but are still struggling."
Aalhus adds she hopes the video (which can be viewed by clicking on the image below) "helps our elected officials understand that they are not providing enough support for certain industries that are not permitted to operate effectively due to restrictions."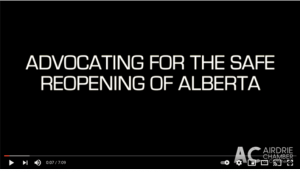 More than 15 local business owners and entrepreneurs added their voices to Aalhus' and echoed her message in the video.
"The financial support from the government is not strong enough for an industry that has had more hardships than most industries," says Tara Pickford, owner of Ambition Performing Arts Inc.
"What will be left when this is all over?" asks Kendra Phillips, owner of Star Bound Dance Co.
"I worked 10 years to have this business," says Heather Crippen of Crossfit 403 through tears.
"And it's just all being taken away from us."
Tracy Schmaltz, owner of The Little Gym Airdrie, says the uncertainty regarding reopening is sad and scary.
"As a business owner, you have your family's life in your hands and your house on the line and all of that can go away with the government not opening you up."
In the video, the business owners ask for safe opening strategies, more support from and dialogue with the government, financial subsidies for the dance and fitness industry, answers and statistics, and proof to show why certain businesses continue to be closed.
"COVID-19 is not gone and after enduring months of closures, there needs to be a safe reopening plan for all businesses in order to survive. Businesses keep waiting for answers and are not getting them," says Aalhus.
She adds the best way Airdrie residents can help is by supporting local small businesses that are open with limited capacity.
"We have the ability to shop local and support them," she says.
"Continue to get takeout and dine in with your family to support restaurants. Shop at local boutiques and stores instead of shopping online. Our businesses depend on us more than ever before. For those businesses who are still closed due to restrictions or have extreme limitations, spread the word that they need more government funding and simply need a safe reopening plan so that they can generate revenue."
For more information, visit the ACC website by clicking here.
stacie@frogmediainc.ca