The Airdrie Public Library (APL) recently announced its plan for a gradual re-opening in light of the Alberta Government's roll out of Stage 2 of the Relaunch Strategy.
The library began relaxing restrictions on June 1 when they started with curbside pick-up of holds that were made prior to the mid-March shut down. They began new holds pick-up on June 22.
"Free access to reading material and information is critical to democracy and to the quality of life in a community," says Pamela Medland, library director.
"We know that many citizens are suffering because of the library closure and continuing restrictions on access. We are working hard at finding ways to serve you as well as we can in the current situation."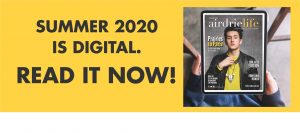 Medland goes on to say the next stage will be opening the library facility to a restricted numbers of patrons as the library is bound by Alberta Health Services (AHS) safety standards regarding the number of people who can safely occupy the space.
The library closed to the public in response to the COVID-19 pandemic on March 17, and at the time, 27,500 items were on loan.
"We are currently drowning in returns, but should have the backlog cleaned up by the end of next week," says Medland.
"Interlibrary loans are still on hold across the province of Alberta, so Airdrie patrons currently have access only to library material that APL owns. We hope province-wide interlibrary loan will resume later in the summer."
The library responded to the closure by increasing its online presence and resources to ensure Airdrie residents could still access all of the information and entertainment they were looking for during this trying time.
"Library patrons have access to a wide-range of e-resources for online use and digital loan," adds Medland.
"Loans of e-books have skyrocketed since the closure. Our information service has been offered through chat and email since we closed, and we are now also answering telephone queries."
Virtual resources that have been offered since the closure include:
online art exhibits
open mic poetry nights
a Summer Reading Club for children
books clubs
fundraisers
an online escape room
contests
a movie club
music
other live and videotaped programming for people of all ages
"In addition, a number of publishers have given temporary free access to digital materials that we would normally have to pay for," says Medland.
She says that library staff hope to have the doors open for in-person visits for a restricted number of guests by July 6, unless Alberta experiences a significant spike in COVID-19 cases in the coming week.
At the time of opening, staff will be required to wear a face mask and/or shield at work and strict hand washing protocols will be in place. Returned library material is quarantined for 72 hours.
"The health of our staff and community, and the trust of the public, are the most important considerations for us," says Medland.
"People need to feel safe using the library and borrowing library material."
She added that the library will continue to offer online programming into the fall and beyond.
For more information, click here.
stacie@frogmediainc.ca