Do you love to sing?
Are you missing your choir or another group that you used to harmonize with due to COVID-19 pandemic social distancing restrictions?
The Airdrie Community Choir (ACC) Virtual Platform may be for you.
"We made the decision to go virtual for many reasons, but our main one was that ACC loves to sing and create music," says Leslee Sanderman, president of the ACC.
"Music has the ability to lift your spirit and soul and we wanted to ensure we could still offer this wonderful source of reprise to anyone who might want or need an outlet."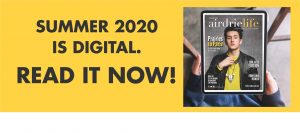 The process of recording your voice alone and sending it in may sound daunting, but Sanderman says the finished projects not only leave you with a sense of accomplishment and being a part of something amazing, but also with a "soul lift" that can only come from creating the music that you love.
"If you love to sing, this is a great opportunity to continue to do something you love to do," she says.
"If you are worried about your skill level, don't be – Airdrie Community Choir has always been a welcoming, non-auditioned space for people who have a mutual love of making music. This is something that we're very proud of and moving to a virtual choir concept doesn't change our mission one bit."
She adds that members of the virtual choir will be asked to attend Zoom rehearsals, practice, make a video of themselves singing as well as create and send in an audio file that will then be blended with the voices of the other members.
Anyone 14 years or older is welcome to join the virtual choir.
"One of the greatest benefits I see to launching this virtual choir is that anyone from anywhere is able to join us, so invite your uncle in Saskatchewan or your mom out in Newfoundland" says Sanderman.
"Another benefit I see is that you can work on your music on your own time. If a Monday night rehearsal is what was keeping you from joining our choir, that is no longer an issue – set your practise schedule to whatever fits into yours."
She says that she hopes to build a virtual choir of between 30 and 40 members, but would love to see it grow even larger than that.
For more information or to register for the full season or on a song-by-song basis, click here.
Registration for the full season ends Sept. 13.
stacie@frogmediainc.ca