Chances are you have had a few crazy dreams where you have done a number of strange things, but have you ever written an entire book in them? Perry Logan has.
In 2017, three days before undergoing prostate surgery, Logan fell asleep on the couch while watching a Calgary Stampeders game.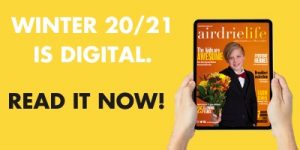 "I can't explain it," Logan admits.
"When I fell asleep on the couch, I was not writing a book and when I woke up two hours later, I was!"
He says the storyline, characters, title and even the cover illustration of the novel Kids of Concern all came to him vividly in the dream. He awoke and immediately sent himself an email detailing everything in it. The next day, he started writing the book and he has written every day since.
"It's the most enjoyable thing I have done in my life and I have done a number of cool things," says Logan, who currently works as the executive director of the National Fireworks Association.
He says the premise of the mature political adventure novel is a character named Carol who plans to take over the world without anyone knowing. She does so by kidnapping some brilliant kids and specifically trained adults to build an organization capable of managing the world's governments.
"The book appeals to people who like action and adventure and want to be entertained," says Logan, 60.
"It is very relatable and simple to understand even though it includes some sci-fi and technology."
He says his first draft of the book was 1,200 pages but working with an editor, he has paired it down to 600 pages with 200 short chapters.
He has drawn on his own experience, people he knows and places that he has lived, including Vancouver Island and the Yukon, as inspiration for characters and settings for the novel.
He plans to make the book into a trilogy because he feels he has much more of the story to tell.
"People tell me they read it in two or three days and then they are left wanting more," he adds, saying he has heard from people as young as teenagers and as old as 80 who enjoyed the storyline.
He adds readers have compared his writing style to James Patterson, which he takes as a compliment.
"Before I wrote this, I hadn't taken English since 1979 and I hadn't read a novel in five years," he says.
"Now I am always thinking of things I can do to change the book and make it better. I can't tell you why someone who never thought of writing before is now so very engrossed in it, but this goes to show that anyone considering writing a book should just do it and take pleasure in doing it."
He adds that when he first started writing, he had no intention of finishing the book but now he is glad that he did and has given himself a goal of selling one million copies.
For more information or to purchase Kids of Concern, click here.
stacie@frogmediainc.ca