The Airdrie of Chamber of Commerce board of directors recently made the difficult decision to cancel the 2020 Airdrie Home & Lifestyle Show.
The show has been running in Airdrie in some capacity for 40 years. The board originally postponed this year's event from April to October due to the COVID-19 pandemic, but made the decision to cancel for the protection of the health and safety of the community.
The 2019 show included 210 exhibitor booths and was attended by roughly 4,000 people.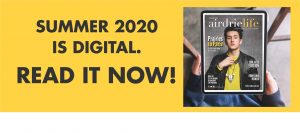 "We want the community and our members to know that their safety and wellbeing is our first priority, and that we always want them to feel like they've had a positive experience when attending or participating in the show," says Marilyne Aalhus, executive director of the Airdrie of Chamber of Commerce.
She adds that the board is aware that this is not the option several of their exhibitors were hoping for, but they are optimistic that they will be able to offer a new and improved 2021 spring show.
The 2021 Airdrie Home & Lifestyle Show is tentatively scheduled for April 24 and 25, subject to change based on provincial guidelines.
"We would like our members and the Airdrie business community to know that we are continuously thinking about them during this time of global crisis," says Aalhus.
"These are unprecedented times and we would like to acknowledge and thank all our exhibitors and the Airdrie community for their patience while we explored the possibility of hosting a fall show."
She adds that residents and businesses should stay tuned for more information on other events that the Airdrie Chamber will be hosting this winter.
"We are still planning to host smaller, safe events moving forward," she says.
For more information on the Chamber's upcoming events, click here.
stacie@frogmediainc.ca