Why
 fall is the b
est 
time to be in your k
itchen 
Getting creative 
Take advantage of affordable seasonal items to try out new and different recipes or sign up for a good food box or CSA (community-supported agriculture) share from a local farm to access variety and inspire you to cook with new ingredients!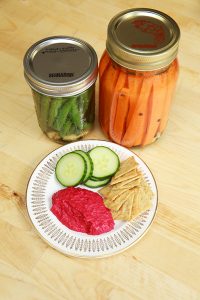 Stocking up 
No one likes to think about losing the abundance of fruits and vegetables that are available to us during the summer. Freezing is one of the quickest and simplest ways to stash away our summer favourites like saskatoons. Portion out frozen berries or veggies in standard measurements frequently used in your go-to recipes so you don't have to fuss with measuring them out when they are frozen and stuck together.  
Cozy nights 
With cooler temperatures coming back we can start to return to some of our classic comfort food recipes that were put on the back burner during the summertime. Put on a big pot of soup and gather your favourite people to share stories of your summer adventures.  
Check out these delicious recipes
Quick Pickles  
The yield of this recipe is two standard pints but it can easily be doubled or tripled to accommodate experimenting with all sorts of veggie choices and spice combinations. One of my favourite adjustments is adding a tablespoon of fresh ginger and teaspoon of curry powder! 
1 

lb 

fresh vegetabl

es (carrots or green beans) 
2

 tbsp

 

dried

 dill

 or 1/2

 cup fresh dill 

 

2 ts

p

 

whole peppercorns

 

2 cloves garlic, 

crushed 

 

1 cup 

vinegar (white or

 apple cider

)

 

1 cup water

 
Wash and dry the vegetables. Leave beans whole with the ends trimmed and chop carrots into sticks, ensuring that they are shorter than your jars.  
Divide the dill, peppercorns and garlic evenly between the jars. 
Tightly pack the vegetables into the jars. Ensure there is a 1/2 inch of space from the rim of the jar to the tops of the vegetables.  
Combine the vinegar, water and salt. Pour the brine over the vegetables, filling each jar to within 1/2 inch of the top. You might not use all the brine. 
Place the lids on the jars and screw on the rings until tight. 
Store the pickles in the refrigerator. Wait at least 48 hours before eating.  
 Beet Hummus  
1 small beet

, roasted 

 

1 15-oz. can chickpeas (

reserve 1/3 cup juice

 while draining

)

1 large lemon

, zested

 
1/2 large lemon

, juiced

 

1/2

 tsp 

salt

 

1/2

 tsp 

black pepper

 

3

 large cloves 

garlic

, 

crushed

 

1/3

 cup extra virgin olive oil

 
Roast a beet wrapped in foil for one hour at 375 F.  
Once your beet is cooled and peeled, chop and blend in the food processor.  
Add chickpeas, chickpea juice, lemon zest, lemon juice, salt, pepper and garlic.  
Add in olive oil as the hummus is mixing. 
Once smooth, taste test and adjust with salt or lemon juice as needed.  
Store in the fridge for up to one week.