A photo journey exploring some of the gardens featured in the 2022 Airdrie Horticultural Society tour, held in August.
Garden #1
Gerri, Woodside Boulevard N.W.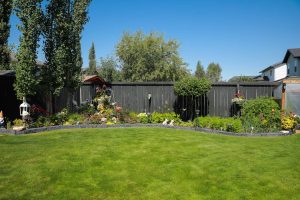 I always like to do my garden in what I think the Garden of Eden may somewhat look like. I love the beauty of the flowers and shrubs and try to do a different colour scheme each year.
Garden #2
Cassie, Sagewood Cove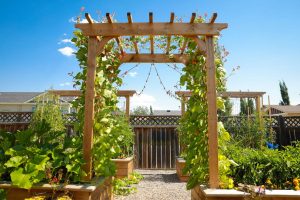 This is a garden in development. I started with raised wooden vegetable beds with an arbour and trellises. I have many future plans, and can't wait to implement them. Hopefully I'll be on the tour again!
Garden #3
Janelle and Deb, Baywater Way S.W.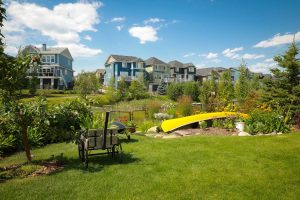 Nestled at the end of the most western canal in Bayside, this yard has been a six-year labour of love. What started as no more than hard clay and thistle has been transformed into an intriguing urban farm. These peaceful gardens contain everything from endless perennials and raised vegetable beds to backyard chickens.
Garden #4
Donelda, Centre Avenue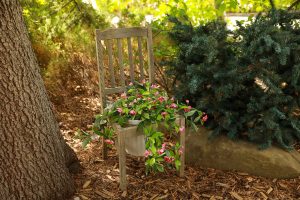 Twenty-two years of reuse, recycle, reclaim, repurpose and refurbish has resulted in a diverse area containing 60-plus-year-old spruce trees, and oak, mayday and mountain ash trees along with massive spreading junipers in the front yard.
The serene backyard also boasts two large rock gardens, as well as numerous fairy gardens. Saskatoon, strawberry, blueberry, raspberry and black currant are some of the berry bushes surrounding the yard.
Garden #5
Earl, Jenson Place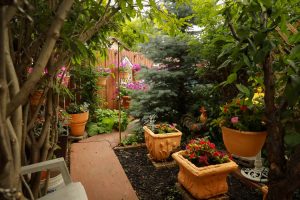 This garden has 205 colourful flowerpots, many of them petunias. The vast number of  petunias extend out of the yard into the back alley. There is also a "secret garden" at the back of the yard with a sitting area that you would never know was there unless shown the hidden pathway to it.