airdrielife is pleased to bring you inspiration from local food blogger Steph Todd.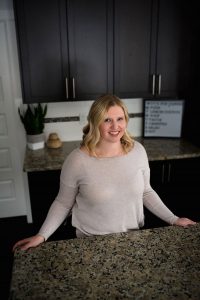 Spring is here – let the spring sports and kids activities begin!
Cue the chaos that comes with getting weeknight dinners cooked and eaten while trying to have everyone out the door to multiple activities.
Enter meal planning, and a little meal prep to calm the chaos.
You will be surprised at how having a weekly meal plan in place, and some prep done, makes those evening dinners just a little less frenzied.
Major bonus points for these recipes that can be made ahead and eaten on the go or at a ball diamond or soccer field!
For more ideas, visit Steph Todd at mealplanaddict.com
---
On-the-Run Asian Lettuce Wraps
Ingredients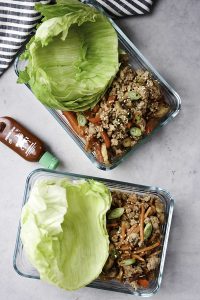 2tsp olive oil
1lb ground pork
1lime, juiced and zested
2tsp garlic powder
1tsp hot sauce
2tsp ginger, grated
1tsp sesame oil
4tbsp hoisin sauce
1/2lb white mushrooms, sliced
1/2lb red pepper, sliced
1/4lb carrots, grated
1/4cup green onions, cut on slant
1head iceberg lettuce, washed, dried and cored
Heat up a pan to medium-high heat and brown the ground pork with 1 tsp of olive oil until 80 per cent cooked.
Add in the lime juice, 1 tsp garlic powder, 1/2 tsp hot sauce, 1 tsp grated ginger, 1 tsp sesame oil and 3 tbsp of the hoisin sauce.
Stir and continue to brown for a few more minutes until completely cooked. Remove pork from the pan and set aside.
In the same pan, with medium heat, sauté all of the vegetables (do not add lettuce) with 1 tsp olive oil.
Cook until well caramelized and then add 1 tsp garlic powder, 1/2 tsp hot sauce, 1 tsp grated ginger and remaining tbsp of hoisin sauce.
Add the cooked pork to the vegetable mix and remove from heat.
Portion and serve with lettuce wraps, tortillas or rice.
---
Prep-Ahead Sweet Chili Chicken Bowls
Sweet chili sauce: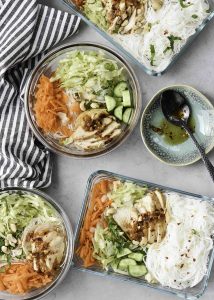 2tsp olive oil
1/4cup fine diced onion
4 clovesgarlic, minced
1/2cup maple syrup
2tsp honey
1/4cup soy sauce
1/2tsp red chili flakes (1 tsp if you like things more spicy)
1lime, juiced and zested
Chicken ingredients:
1lb boneless, skinless chicken breasts
1tsp garlic powder
1tbsp olive oil
salt and pepper to season chicken
Bowl ingredients:
2cups cucumber, chopped into bite-size pieces and patted dry
1 1/2cups shredded carrots
2cups shredded iceberg lettuce
1200 g package of vermicelli noodles
Cilantro (optional garnish)
peanuts or cashews (optional garnish)
Preheat the oven to 375 F.
Season the chicken with garlic powder, salt and pepper.
Heat the oil on medium-high heat in an oven-safe pan. Sear the chicken on both sides and place the pan into the oven to cook until chicken is 165 F. Then remove from oven and set aside.
While the chicken bakes, prepare the sauce. In a small pot, heat the oil on medium heat. Add the onion and garlic until well caramelized and lightly browned. Take care not to burn this. Add the remaining sauce ingredients and allow to simmer on low for 3-4 minutes. Set sauce aside to cool.
Once cool, divide the sauce into 4 portions in small containers. You want to store the sauce separately from your chicken and veggies.
Prepare the vermicelli noodles as per the package. Then strain and set aside.
To assemble your bowls, divide the chicken, veggies, and noodles evenly between 4 containers. Make sure the chicken has cooled before placing a lid on the bowls.
At time of serving, drizzle the sweet chili sauce on each bowl and enjoy!